Click image to enlarge.
Although it is not officially spring, it feels like it where I live. The weather is warmer, and we're all looking forward to spring break. In this post, I'll show you how to create a colorful makeup look using drugstore products. I've also included some different options, so you can amp it up based on how bold you want to go.
Wear this look out on campus and let everyone know that spring is here! Scroll down to learn how to create this look:
What You'll Need: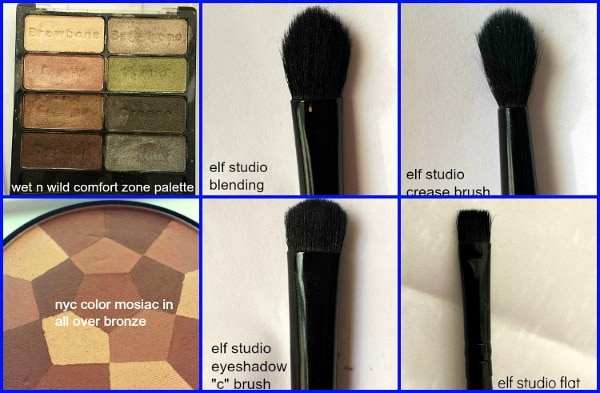 Click image to enlarge.
How-to:
Step 1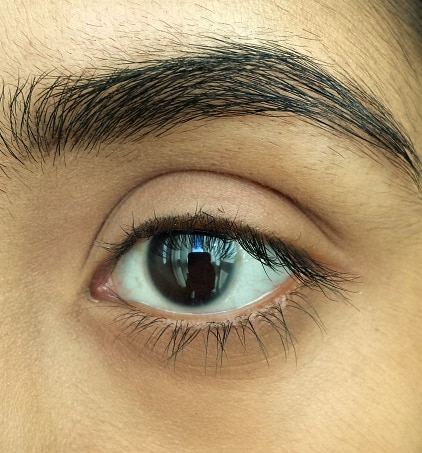 First, apply your favorite eyeshadow primer. If you don't have one, don't worry. You can use whatever foundation or concealer is left on your brush from applying your base makeup; apply it to your lid, then set it with powder. It won't give you the exact longevity as a regular primer, but if you're in a crunch this can work.
Step 2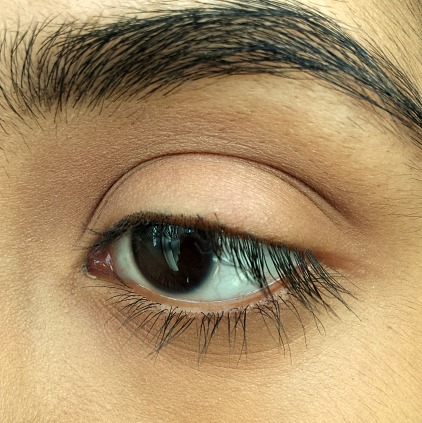 Dip the e.l.f. Crease Brush into your bronzer and apply it to your crease. If you're unfamiliar with terms such as crease and crease brush, then be sure to take a look at my beginner's guide to eyeshadow.
Step 3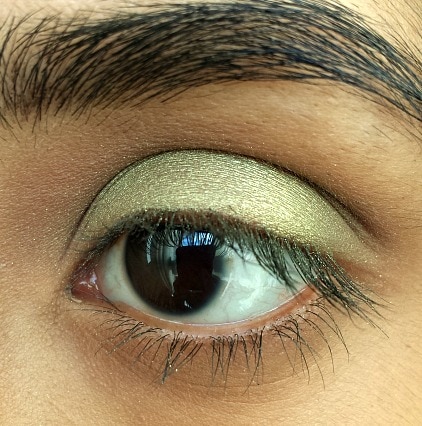 I used my eyeshadow brush to pick up the light green eyeshadow (right column, second shade down) from the Wet n Wild palette. Apply the color to your lid, and make sure you stop at the crease.
Step 4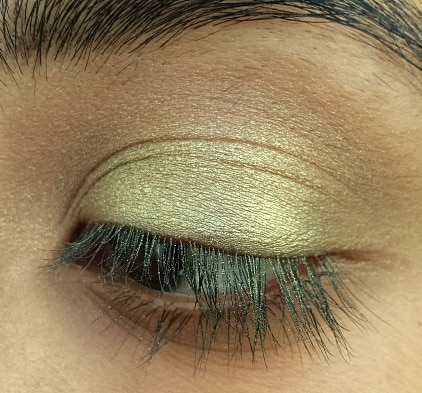 Use the e.l.f. Blending Brush to blend out the crease and lid shade, like I did here. Make sure it's blended out well, since the lid color isn't neutral. You don't want there to be obvious line!
Step 5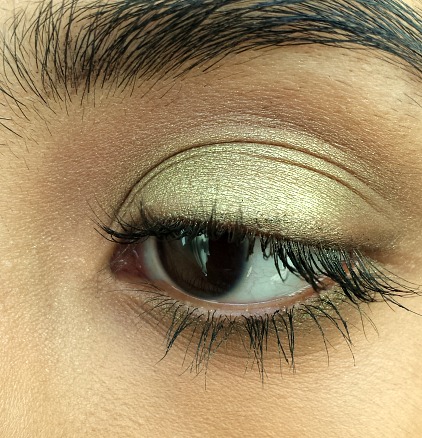 To finish up this look, I added a brown eyeliner (NYX Slide on Pencil in "Brown Perfection"), then applied some liner and eyeshadow to my lower lashline. If you don't want to overwhelm yourself with too much color, then feel free to skip adding any sort of color the lower lashline. Don't forget to apply your favorite mascara, too!
Lip Colors: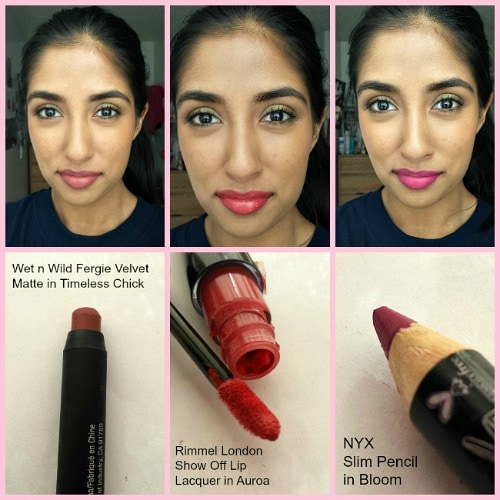 Click image to enlarge.
I wanted to give you three lip options, depending on how bold you want the color to be:
Wet n Wild Fergie Velvet Matte Lip Color in "Timeless Chick": This is obviously the most neutral. Although it is matte, I personally do not find it to be drying. This color is available exclusively in Walgreens stores for around $3.99.
Rimmel London Show Off Lip Lacquer in "Aurora": This is a bit brighter in person. I would describe it as a coral, and depending on your skintone and undertone, it can either look either more pink or red. This product is the most "comfortable" out of the three because it feels like a lipgloss without the stickiness. You can pick this up at drugstores for less than $6.
NYX Slim Lip Pencil in "Bloom": This purple-pink shade looks similar to Pantone's 2014 Color of the Year, Radiant Orchid. This is definitely the boldest of the three lip colors. Just like Aurora, the color may look more pink or purple depending on your skintone/undertone. This lip pencil retails for $3.50.
Tips and Tricks for Recreating this Look:
If you feel like this look is still too bright, you can switch out the green on the lid for the taupe/sliver color in the palette, then add the green as an accent color on your lower lashline.
Not used to wearing bold lip colors? Try wearing one as a lip stain first. To do this, apply the lip color, blot it with a tissue, and apply lip balm on top. This will give your lips some color without overwhelming you. As the days progress, blot less and less. Soon you'll be ready to wear the color head-on!
Alternatively, you can also mix a nude lip color with a colorful one to get a more muted and neutral lip color.
Your thoughts?
Are you excited for spring? What do you think of this look? Will you be trying it out? What other makeup tutorials would you like to see? Let me know by leaving a comment!