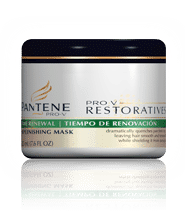 If you bleach, straighten and blow-dry your hair on a regular basis – you need to hear about my new favorite deep conditioner ever!
It's not often I fall in love with a hair product. Usually, my long, wavy, highlighted blonde hair is anything but cooperative. It's been bleached, straightened, curled and washed so often that most hair products just don't help with the constant dryness.
Because of this, I've been looking for a great deep conditioning treatment for a while, and I've tried a LOT. Finally, I actually have something I love – Pantene Pro-V Restoratives Time Renewal Replenishing Mask. Long name, awesome conditioner.
After using this only twice (once a week for the last two), I can honestly say my hair looks better than it has in years. It's much smoother, softer and even seems stronger than before. People have been asking me if I did something different to my hair, and I know it's because I've been using this conditioner! It's totally fixed my fried hair for the time being.
I checked the reviews for this conditioner on the beauty website MakeupAlley, and the reviews there were positive as well. MUA users gave my Pro-V Mask a 4.6/5.0 overall rating and 88% would buy it again! I have to say, I agree – will be buying this one again and again.