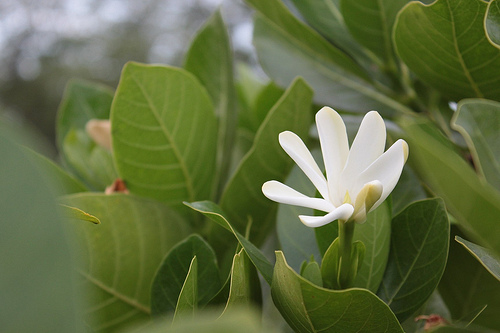 If you follow our beauty posts, you probably already know about the hair and skincare benefits of jojoba oil, olive oil, and coconut oil, among others. A little while ago I stumbled across another oil from the Tahitian islands that's popping up in beauty products everywhere: monoi oil.
A lot of brands have picked up on this phenomenon and have started incorporating this oil into hair products, lipsticks, foundations and more! So to get you up to speed on this trendy new ingredient, today, I'll explain what monoi oil is, the benefits, its common uses, and where you can buy it.
What is Monoi Oil?
Monoi oil is an infused perfume oil that is made by soaking the petals of Tiaré flowers (Tahitian gardenias) in a semi-wax coconut oil. "Monoi," in ancient Tahitian, means "scented oil." Appropriate, right?
This oil is widely used as a hair and skin softener and has been used by French-Polynesians for generations! No one knows for sure when it was first invented, but its use can be traced back over 2000 years.
In addition to the real stuff, there are lots of monoi oil knockoffs hitting the market today. Authentic monoi oil follows a strict manufacturing code from start to finish, and this process is protected and validated by the Appellation of Origin, which was awarded in 1992.
What Are the Benefits of Monoi Oil?
Monoi oil is great for your skin and hair! It can be used alone or as a perfumed substitute for coconut oil. In addition, you may find it in your favorite products soon – companies are starting to realize that monoi oil is great way to add some extra moisture into their product.
Monoi oil is rich in methyl salicylate, which is a skin-soothing agent. It's naturally concentrated, penetrates the skin and re-hydrates the epidermis layers while also shielding skin from sun and wind! How cool is that?
What Are the Common Uses of Monoi Oil?
After a shower or bath, apply some like a lotion to seal in moisture and keep skin soft.
If you love going to the beach or the pool, you can use this before and after sun exposure to help protect your skin. (Note: This is NOT, of course, a substitute for good old fashioned sunblock!)
Try it as a moisturizing hot oil treatment for your hair.
Put a few drops in a bath for relaxation and some lovely fragrance.
Use it as a great massage oil.
If you forget your sunblock one day, try it in conjunction with aloe vera for relieffrom a sunburn.
Where Can I Buy Monoi Oil?
While many products now include monoi oil in their ingredients, if you want the pure stuff, there are three main places to buy it:
The first two shops are family-owned shops on the islands that have been making monoi oil for decades. The third shop, which is US-based, was founded by a woman who fell in love with the product in Tahiti and began making her own in the States. Offline, many natural foods stores also stock the real stuff.
Works Cited:
Also check out the shops above because they also say why monoi oil is great for you and the process behind it!
What Do You Think?
Have you heard of monoi oil? Will you try it after reading this post? Have you tried other oils? Let me know in the comments!