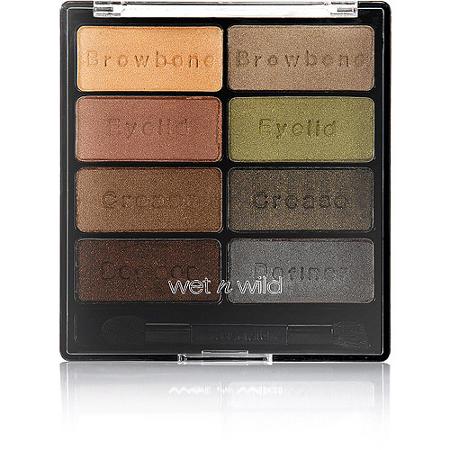 I love getting ready to go back to school. Seeing my friends, moving into a new place, getting all my stuff packed and ready to go… I'm excited just thinking about it! (And of course, we also need to go to class… but you know that.)
One of my favorite parts of getting ready for a new school year is the shopping, and today we're discussing my favorite drugstore beauty picks. Read on to learn what they are!
Gillette Venus & Olay Razor
I LOVE this razor. Gillette's Venus line has a lot of options to choose from, but this one is amazing. I'm always trying new razors because some tend to irritate and burn my skin, and thankfully this one doesn't.
The Olay moisturizing gel bars actually work, and you don't need to use shaving cream. This razor has made my routine so much quicker. Most of the time, I don't need to apply lotion afterwards, either! This razor is worth the price, and is perfect for busy college girls.
Wet n Wild Comfort Zone Palette
You're probably thinking that this is the cheapest palette ever and there's no way it's good. Well… to be blunt, you're 100% wrong! This Wet n Wild palette is incredible. The pigmentation is fantastic, the formulation is smooth and not chalky, and the colors are beautiful.
This eye shadow palette makes it so easy to create beautiful eye looks, and the low price means you have to give it a try. I've tried out some of the brand's other palettes, and for some reason they just don't stack up to this one. Pick this palette up, ASAP.
Tone Moisturizing Mango Body Wash with Cocoa Butter
I'm a huge fan of Tone body washes, and this one is my favorite. It's super-moisturizing, and the formula is so thick and luxurious. If I didn't know better, I'd never believe it costs less than $6.
The scent is awesome, plus it really feels like it's hydrating your skin. If you're looking for a body wash that won't break the bank, give this one a shot.
Maybelline Instant Age Rewind Concealer
I know, we're all still pretty young and the idea of using "age rewind" concealers probably sounds a little aggressive, but don't worry, anyone can use this product. Maybelline always makes amazing concealers, but this one takes the cake.
I love the applicator at the top; it makes it so easy to blend the concealer. Since it's too brightening I don't use this for blemishes, but it's great for highlighting and concealing the under-eye area. Try this if you have a problem with dark circles— you won't regret it!
What do you think?
Have you tried any of these products? What's your favorite drugstore beauty find? Would you like to see more posts like this? Let me know your thoughts in the comments!