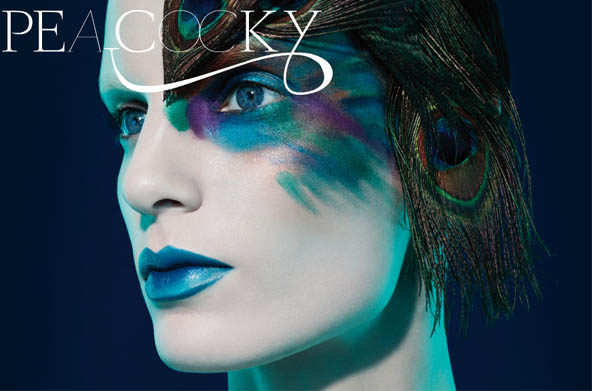 MAC Cosmetics' Spring 2011 Collection is now in stores, and we've got all the details here! Featuring trends such as green eye makeup and turquoise eye shadow, the collection's name and theme, Peacocky, fits in perfectly amongst the bright colors of spring's hottest makeup looks.
In this collection, the peacock, as MAC says, is used as "a symbol of extreme beauty, raging against everything simplistic." That means bright colors and cool metallics are used in the collection to create makeup looks reminiscent of a peacock on display.
The Peacocky Colors

From left to right: Noir Plum, Odalisque, Ego, Paparazz-she.
Peacocky features an array of rich colors for spring, as well as a few new lines designed to bring more pigment than ever to your face.
Included in the new Peacocky offerings is MAC's new line of Mega Metal Eyeshadows. The eyeshadows feature deep bronzes and beiges as well as the greens, purples, and turquoises found in peacock feathers. Noir Plum (a deep purple with a touch of silver), Odalisque (a darker turquoise), Ego (rich green), and Paparazz-she (a metallic bronze) are the stand-out shades that set the tone for the rest of the collection.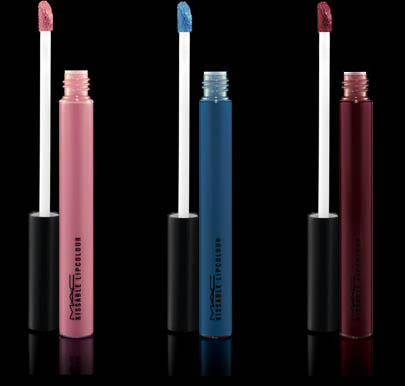 From left to right: Enchantée, Peacocky, Love Peck.
In addition to the Mega Metal Eyeshadows, MAC has also introduced Kissable Lipcolour in the Peacocky Collection. Kissable Lipcolour "applies with the smooth glide of a lip gloss, then finishes with the creamy pigment-rich look of a Lipstick."
Kissable Lipcolour shades range from light pinks and corals to a daring blue. The shade "Peacocky" is a "sky blue with red pearls" that gives off a metallic sheen. "Love Peck" is a gorgeous, blood-red that provides a dramatic dark-lipped look. "Enchantée", a light pink with a slightly blue undertone, is an updated pink for a spring look.
Want more on Peacocky?
If you're dying for some more info on the Peacocky collection, let us direct you over to MAC's lovely website for more. Check out the rest of the colors in the Peacocky Collection here.
*All photos courtesy of MAC Cosmetics
What Do You Think?
What's your take on MAC Cosmetics' new collection? Would you ever rock the blue lip color in this collection? Let us know in a comment!