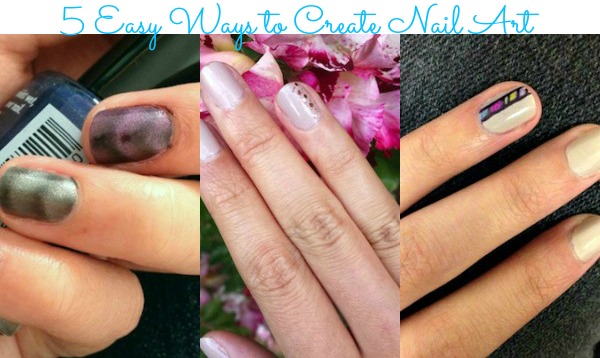 To take a break from all the nail art tutorials I've been doing, I thought I'd show a few different ideas and techniques I've used in the past to jazz up my nails that take little time and don't require a lot of skill. These five alternative ways to create nail art will give wow-worthy look in a snap – perfect for those of us who don't have endless hours to spend on intricate nail art, but never want to leave the house without polished tips!
Scroll on down to check out five easy and fast ways to create nail art:
1. Sharpie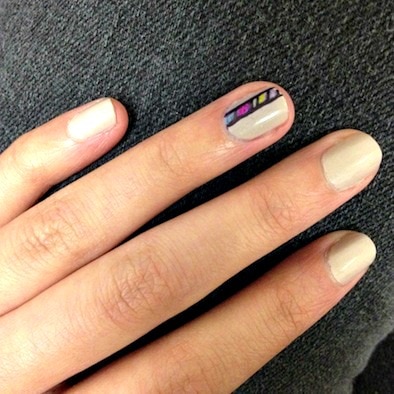 First on my list has to be the Sharpie. Everyone has one lying around at home and it's just the simplest way of doing some nail art without having to worry about drying time or smudging. Since it's essentially a pen, it's easier to maneuver and more precise than nail art brushes – especially if you're not ambidextrous.
The best part is that if you make a mistake, you can wipe it off with some rubbing alcohol and a little elbow grease. And if you want to keep your design, you can just seal it off with a top coat! I've tried this method multiple times and it works great if you want to replicate geometric prints or intricate details.
I recommend using the normal-sized ones (just make sure the tip isn't worn), rather than the fine tipped ones, as they can be inconsistent.
2. Glitter top coats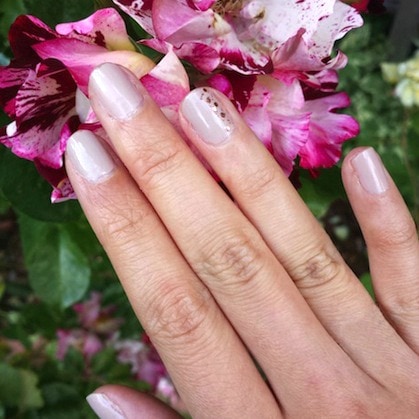 As I've mentioned before, a classy way to jazz up your nails is by using glitter polishes. Though they come in different shapes, sizes, densities and colors, you can never go wrong with glitter top coats. As I've previously profiled, you can use glitter top coats in so many ways, either over your crème polish, or as detailing.
3. Textured or crackle top coats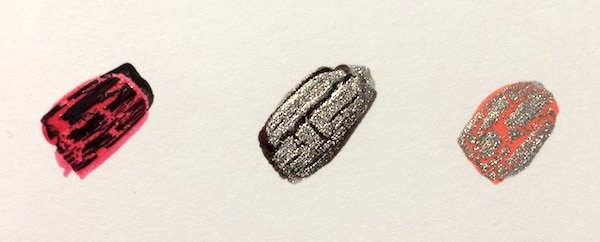 I remember when the OPI's Shatter line was released – it created a huge hype and I would say it's the forerunner of all the textured top coats we now see. You can now find a number of different options – Shatter, Crackle, Blasted and many different colors as well. I'm not too big a fan of these polishes from experience, since application can be a bit difficult and the polishes could turn goopy after a few uses, but it can be fun to experiment and see what you can create with this kind of top coat.
Similarly, textured nail polish is becoming a trend, with the introduction of matte top coats, followed by velvet nails and the caviar effect, to name a few. Though some of these are more time-consuming in application and cleanup, new developments like OPI's Liquid Sand, Zoya's Pixie Dust and Nails Inc.'s Feather Effects are great options for getting textured nails in one step.
4. Magnetic Polish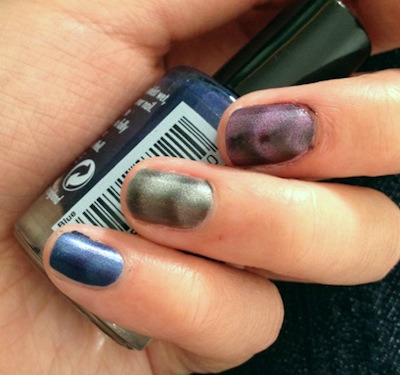 Magnetic Polish is another trend that emerged in the last year, with a numberofdifferentcompanies jumping on the trend. It's an easy option if you choose to forgo hand-drawn nail art – especially since there are different designs and patterns that can be achieved. Essie recently came out with Snakeskin Magnetic nail colors (which I have yet to try), giving us another pattern to play with. Love it or hate it, I think its a great option, especially for an accent nail.
5. Flake top coats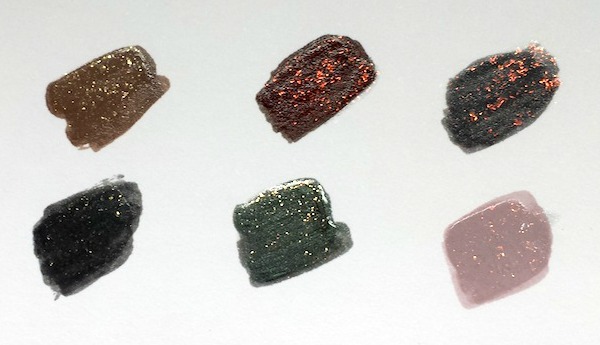 Note: These are a little bit more difficult to capture on camera (which is why I didn't swatch them on my nails), as they are multi dimensional and look different under different lighting, but if anyone is interested, there are a lot of different swatches if you do a quick Google search!
Lastly, this option is one that I tend to use a lot. Similar to glitter top coats, I've seen top coats with flakes, instead of glitter, start to emerge. Beginning with Essie's As Gold As It Gets and Shine of the Times from their Luxeffects line, these top coats have trickled down to the drugstores, with Revlon's recent release of a line of duos called "Moon Candy". These are a great option for adding some dimension to your nails, especially over a dark color during the winter months.
Personally, I was addicted to using Essie's As Gold As It Gets, since it was easy and hassle-free to apply. I've also tried the Revlon ones, which were a disappointment – despite the great colors, their flakes were inconsistent and lumpy compared to Essie's.
What are some easy ways you have for easy nail art?
So, here are just a few of my ideas for the weeks when you opt out of traditional nail art but still want to add some extra detail to your nails. I hope you guys enjoyed this post and found some inspiration!
Comments, questions are suggestions are always welcome! If there's anything you'd like me to write about or make a tutorial for, feel free to post them in the comments below! I'd be happy to answer any questions you guys may have.