This post may contain affiliate links, which means we may receive a commission if you purchase through our links. Please
read our full disclosure here
.
I'll admit that it was really hard to whittle down my list for last week's post on 5 Nail Polishes Every College Girl Needs to Own. I kept reading your comments and agreeing with all of them – most colors you guys mentioned were colors I had crossed off a longer list anyway!
So without further ado, here are 5 more nail polish shades every college girl needs in her arsenal:
1. A Dark or Black Shade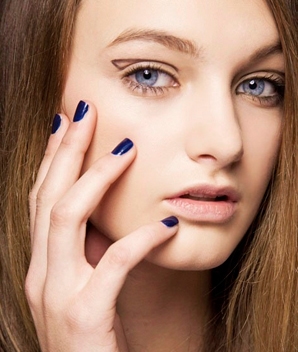 Navy nails at DKNY via Elle
As CF commenter Kristin wrote, "The idea that black is a 'goth' color is silly." I completely, completely agree! Black is totally wearable and looks great on most skin tones – it's also uber chic and always fashion-forward.
Not ready to go that dark? Almost-black polishes are quickly becoming classics, with shades like OPI Lincoln Park After Dark ($8 at Amazon) and Essie Wicked ($6.39 at Amazon) being cult favorites. If you're looking to pick up a new shade for winter, look no further than something in this color family.
My picks:

Wet 'n' Wild Wild Shine in Black Crème
As I stated in my post about my favorite almost-black shades, my favorite darks include Wet 'n' Wild Wild Shine in Black Crème ($.99 at Amazon), Deborah Lippmann Stormy Weather ($14 at Amazon) and OPI Black Cherry Chutney ($7.99 at Amazon).
2. A BIV (Blue, Indigo or Violet)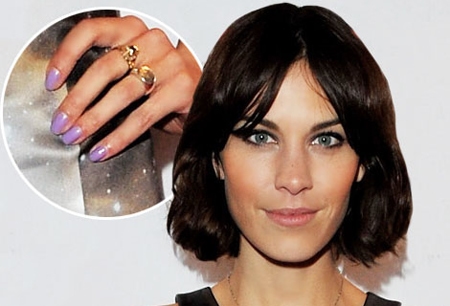 Alexa Chung rocking a lavender manicure via Elle
I'm all about non-traditional nail colors, and BIV shades are perfect as they are still on the edgy side while being appropriate for almost all seasons, and most importantly, flattering on basically every skin tone. These colors are perfect for days that you don't want to go the red/pink route but don't want something too out there on your nails. Make sure to use a base coat when applying these colors to avoid smurf-nails- and I'm not talking about the cute, Katy Perry kind.
My Picks: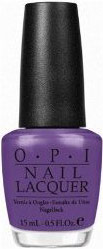 OPI Funkey Dunkey
For blues (which I've written about here), I like OPI Dating a Royal ($7.45 at Amazon). For indigo, I like OPI Russian Navy ($7.30 at Amazon) and Essie Bobbing for Baubles ($6.13 at Amazon). Finally, for violet, I love OPI Do You Lilac It? ($7.40 at Amazon), OPI Funkey Dunkey ($9.70 at Amazon), and OPI Pampalona Purple ($7.34 at Amazon).
3. A White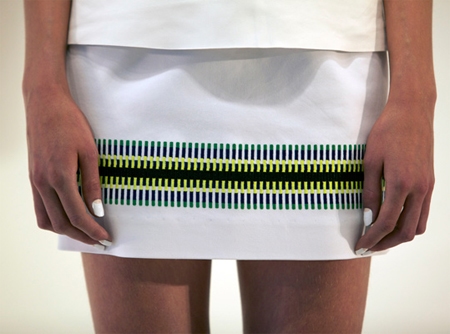 White nails at Odilon by Stacey Clark (photo via Refinery29)
Yep, white still conjures images in my brain of 6th grade "white out" manicures. Still, it's a color that needs to be in your arsenal.
Have a runny, clear nail polish? Stick a white coat underneath to make that color seem brighter- this works especially well for neons! Want to try a French mani? Use a special nail (or clean eyeliner) brush for your tips. Or try it as a manicure like casting director Natalie Joos or Emily from Cupcakes and Cashmere. My roommate Lizzie also loves it under Sephora by OPI's Only Gold for Me glitter topcoat.
Seriously, the possibilities are endless. Oh, and if you use a super-shiny topcoat like Seche Vite or Revlon Quick Dry Top Coat, I promise no one will confuse your manicure for correction fluid!
My Picks: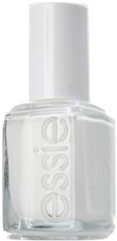 Essie Blanc
Essie Blanc ($5.98 at Amazon) is my absolute favorite white polish and the only one that's worth it in my opinion – it's opaque and quick-drying, what more can you ask for?
4. A Glitter Topcoat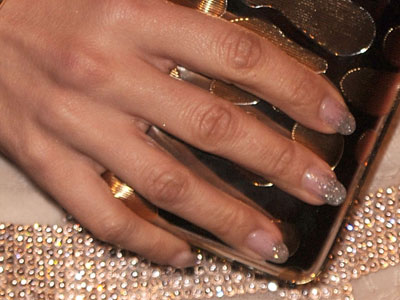 Glamour
I love me a good glitter topcoat. Every time I purchase a new one (which is probably all too often), I justify it to myself by saying I'm doubling my nail polish stash.
It's so true, though – glitter can bring out colors you didn't even know were in the polish underneath. Plus, we're lucky that, being in college and all, glitter is still completely appropriate – so what are you waiting for?
My picks:
Essie Set In Stones
You guessed it, I wrote about glitter topcoats here previously, but my three "must-haves" are Sephora by OPI Only Gold for Me ($9.50 at Sephora), Essie Set in Stones ($6.13 at Amazon) and Essie Shine of the Times ($6.58 at Amazon).
5. A Berry:
Dark berry nails at Adam via Elle
Some of us aren't "red" girls. Some of us aren't interested in pink polish. But even if you fall into either (or both, or none) of these categories, you absolutely need a berry shade of nail polish.
These darker, bluer, richer reds, pinks and purples are seriously amazing. Why are they so great? One, these colors look good on every skin tone. Two, they are appropriate for pretty much all occasions and three, they look good in every season. These are the kinds of shades that you'll be wearing for years and years to come.
My picks: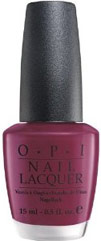 OPI No Spain No Gain
My three favorite berry shades of all time are OPI No Spain No Gain ($8.49 at Amazon), OPI Bastille My Heart ($7.32 at Amazon), and OPI Bogota Blackberry ($7.33 at Amazon).
What do you think?
What do you think? What else goes on your list of must-have shades? Tell me in the comments!