This post may contain affiliate links, which means we may receive a commission if you purchase through our links. Please
read our full disclosure here
.
Some beauty products are so well-loved, so obsessed over, it seems like we'll never hear the end of it. The problem is, most of these products are so expensive we have to pick and choose what we can splurge on, and when a hyped-up product winds up being a dud, it's more than a little disappointing. What's a girl to do? I've put plenty of beloved beauty products to the test (yes, even some CF favorites), and quite a few just didn't measure up to my high expectations.
So, which cult-favorite beauty products aren't worth the hype? And what should you try instead? Find out below.
Nars Orgasm Blush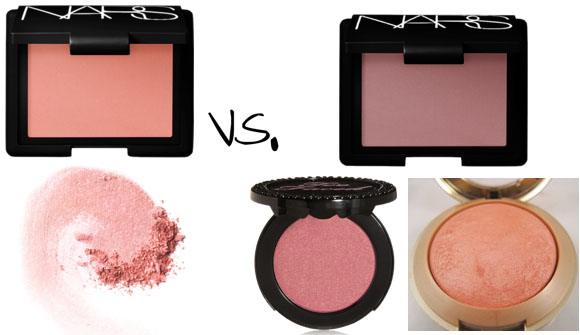 Product Information: NARS Orgasm, NARS Sin, Milani Baked Blush in Luminoso, Too Faced Full Bloom
As far as cult beauty products go, NARS Orgasm is the one that started it all. It's known as the universally flattering blush, and at nearly $30, you'd think it would live up to its flawless reputation. I think people just get caught up in its scandalous name, because to me, it's nothing special. (CF writer Chelsea, though, would disagree!) Don't get me wrong, it's a great, long-lasting product, but by now, it's been duplicated so many times that it's no longer worth its price.
If you're obsessed with Orgasm's healthy glow, try Milani's Luminoso instead. They're nearly exact dupes, and while Milani doesn't quite having the staying power of NARS, it's a tiny fraction of the cost. But if you do have the funds to splurge on a blush, NARS is definitely the way to go. Their blushes are highly pigmented and completely natural looking, though I recommend choosing a more unique shade that you can't find at the drugstore. Sin is a gorgeous plum with gold shimmer that looks amazing on all skin tones.
If you still want that high-end pink glow, give Too Faced's Ultra Flush Blush in Full Bloom a try. It gives you twice the glow of Orgasm at slightly more than half of the cost.
Revlon Lip Butters

Product Information: Revlon Colorburst Lip Butter, Revlon Just Bitten Kissable Balm Stain, MAC Lustre Finish Lipsticks, Burt's Bee's Tinted Lip Balm
I'll admit, I went lip butter crazy just like everyone else last year. Which is probably why I own five of these. Revlon's lip butters (see our Colorburst Lip Butter review from last year) are touted as having the amazing color payoff of a lipstick with the moisturizing properties and easy application of a balm. And while the color selection is gorgeous (with a few exceptions – Creamsicle makes me look like a corpse) within a few days of wearing these my lips were constantly dry and cracked!
If moisture's what you need, stick with a real lip balm. Burt's Bee's tinted balms don't have the greatest color payoff (except for Red Dahlia – gorgeous!), but they will keep your lips chap-free.
Though the lip butters are highly pigmented (Red Velvet and Lollipop are great when you need an easy dramatic lip), the staying power is just average, and they smudge like crazy. Revlon's Kissable Balm Stains, however, are the complete opposite. They're even easier to apply than the lip butters, provide a nice moisturizing base that lasts for more than just a few hours.
In theory, these are the perfect lip product, but overall they're just not as great as they should be. If you're looking for a high-quality color that feels soft on the lips, give MAC's lustre finish lipsticks a try. They fetch a much higher price, but the color selection is beautiful and application is a dream.
Diorskin Shimmer Star in Amber Diamond

Product Information: Diorskin Amber Diamond, Physician's Formula Shimmer Strips in Vegas Strip, Urban Decay Baked Bronzer in Gilded
This wouldn't be a cult favorites list without mentioning Dior's Amber Diamond Shimmer Star. This product is supposed to provide a natural-looking glow that illuminates the entire face, giving you a flawless finish that looks fresh off the beach. And it does. But much like NARS Orgasm, so do a million other products! At $45, this product is just not worth it, especially when much cheaper alternatives can do the job just as well.
Physician's Formula Shimmer Strip in Vegas Strip is nearly an exact dupe for this product at a fraction of the price, and I find that it's easier to apply. Amber Diamond can kind of make you look like a bronzed disco ball if you don't know what you're doing. Urban Decay's Baked Bronzer in Gilded isn't quite as illuminating as the other two products, but its natural-looking golden glow can't be beat, especially at nearly half the cost.
Benefit's "They're Real!" Mascara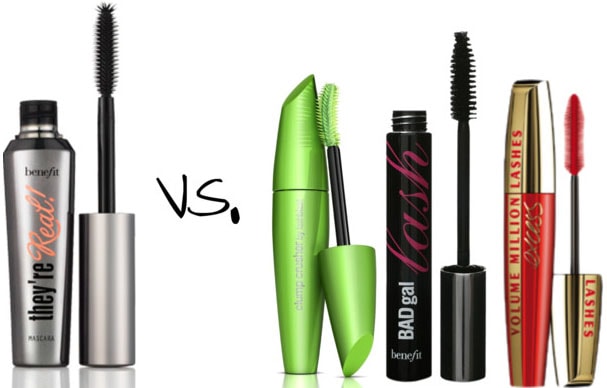 Product Information: Benefit They're Real! Mascara, CoverGirl LashBlast Clump Crusher Mascara, Benefit BADGal Lash, L'Oreal Voluminous Million Lashes Mascara
Benefit's BADGal lash is one of my favorite mascaras, so I thought I couldn't go wrong with They're Real!, Benefit's cult-favorite mascara that supposedly lengthens, thickens, curls and separates lashes for a doll-like, natural-looking finish.
Wrong. I was so wrong. I don't know why people like this mascara. It made my lashes look clumpy and spidery after one application, and even though it isn't waterproof, it was a total pain to remove.
BADGal lash is considerably cheaper and makes your lashes look lush, long and natural – definitely a must-have if you're looking to splurge. And if you want the volume of They're Real! at a fraction of the cost, give L'Oreal's Million Lashes Mascara a try.
However, CoverGirl's Clump Crusher mascara has both of those dupes – even BADGal – beat. At about $6 a tube, Clump Crusher does exactly what it claims, at a price that can't be beat. I've been using it for a few months (it's officially my holy grail mascara) and clumps are a thing of the past. It's not as volumizing as the other two mascaras, so if you like a dramatic eye, this might not be the product for you. However, if you want long, thick, natural-looking lashes, CoverGirl is the way to go.
Yves Saint Laurent Touche Éclat Radiant Touch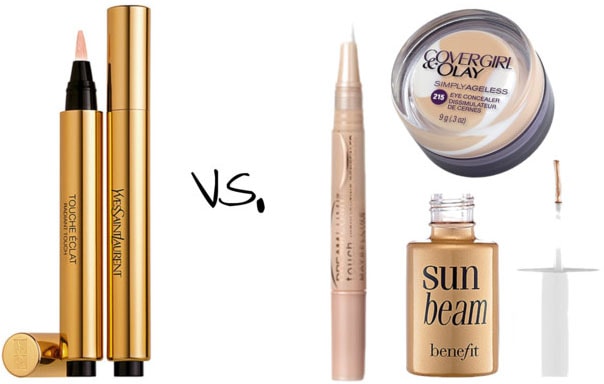 Product Information: YSL Touche Éclat, Maybelline Dream Lumi Touch Highlighting Concealer, Covergirl + Olay Simply Ageless Eye Concealer, Benefit Sun Beam
Ah, Touche Éclat. The ultimate… Okay, what exactly is Touche Éclat supposed to be? Is it a concealer? A highlighter? No one really seems to know, but everyone's obsessed with it. And sure, it will give you a gorgeous glow, if you happen to have $40 to spend on .1 oz of product. Don't get me wrong, Yves Saint Laurent is the ultimate in luxury beauty (their glossy stains are to die for), but this product falls a little short of its hyped-up reputation.
YSL claims Touche Éclat "immediately erases any signs of fatigue" but its coverage is minimal at best. As college students, we know how bad under-eye circles can really get, and Touche Éclat just doesn't get the job done.
Maybelline's Dream Lumi Touch Highlighting Concealer, on the other hand, not only brightens dark circles, it almost completely erases them, all for about $8. If you need a concealer that's a little more nourishing to the under-eye area, CoverGirl + Olay's new Simply Ageless concealer is the way to go, as it also provides excellent coverage and a glowing finish.
But maybe Touche Éclat isn't meant to be used as a concealer. No one can seem to agree on what you're supposed to do with it, and as an illuminator it's hard to beat. Benefit's Sun Beam liquid highlighter provides the same golden glow for just a little more than half of the cost (plus it comes with much more product), so if you're in the mood to splurge, it's the better deal.
Your thoughts?
Have you tried any of these products? Which beauty favorites do you think are worth the hype? Be sure to leave me a comment and let me know what you think, I love hearing your thoughts!