This post may contain affiliate links, which means we may receive a commission if you purchase through our links. Please
read our full disclosure here
.
I'm one of those girls who wants everything organic, all-natural and non-GMO – including beauty products! With so many companies boasting "all-natural" products, it's becoming harder and harder to find trustworthy products you can feel good about. It all comes down to reading the labels and looking for chemicals, but today, I've done that part for you.
Below are five of my favorite natural beauty products. These awesome and trustworthy products are just as good as they claim to be. Scroll down to learn more about each one:
1. Desert Essence Thoroughly Clean Face Wash

$8.99 at Walgreens
I used to deal with mild acne, so I've gone through a lot of different cleansers. But after my skin cleared up I stopped using them – even though I knew that I should. I just couldn't get into the habit! Then, when I went all-natural, I picked up this cleanser, and fell in love with both the product and the brand.
Desert Essence is a brand that does not test on animals. This product is free of artificial fragrances and dyes, and is vegan, recyclable, gluten free, cruelty free, and the formula is biodegradable. What else could an earth-saving female want in a cleanser?
Since I started using this product my skin feels clean and fresh and it gets me excited to wash my face every day. It's a bit runny as opposed to some thicker cleansers, but isn't too difficult to apply. Also, the smell isn't sweet like those fancy Bath and Body Works products, but it definitely doesn't smell bad. This cleanser is made with tea tree oil, which is fantastic for getting rid of acne and excess oil.
If you are looking for a new cleanser that you can feel good about, try this one! I picked mine up at a local grocery store, so I am assuming it should be easy to find. If you can't find it locally, plenty of online retailers sell it, too.
2. Boots Botanics Rosewater Toning Spritz
$8.39 at Target
I am a Target fanatic, and because I work there, I shop there even more than I should. I picked up this product from the Boots Botanics line and was so glad I did. I never really thought toner was a big deal and usually just skipped it, but this product has changed my mind. Not only does it smell amazingly fresh, but it makes your skin feel like a dream.
It feels so refreshing when you spritz it on and just leaves a completely clean feeling. It's also certified organic and made with only five ingredients; now that is something I can feel great about putting on my skin. I really recommend that you give this toner a try! Personally, I cannot wait to try more products from the line.
3. SheaMoisture African Black Soap Body Wash

$8.99 at Target
Ever heard of African black soap? It sounds weird, right? But don't be fooled by the name and color because it is amazing. African black soap is considered an ancient secret of the African women who would make it in their village. It is made of palm ash, tamarind extract, and plantain peel, and is known to help clear blemishes and soothe skin. This body wash is also made with oats, aloe and of course, shea butter for an extra moisturizing feel.
At first, I didn't care for the scent. I was used to using a floral body wash from Victoria's Secret, so this natural scent was a bit different at first, but now I love it. It is a soft, slightly sweet scent that stays on the skin for a long time, but is not overpowering.
This body wash is certified organic and cruelty free, and also feels great on your skin. My skin felt so smooth and moisturized after using it. If you deal with dry skin, try out this wonderful product.
4. Burt's Bees Peach and Willowbark Deep Pore Scrub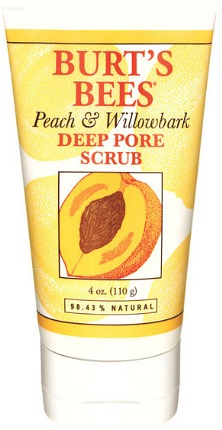 $7.99 at Target
I am pretty positive that all of you are familiar with Burt's Bees, and if you aren't, it's time to check it out! Burt's Bees is well-known for all-natural products and this scrub is no exception.
A pore scrub is a product that can be used a few times a week to clear your skin of all the gunk and build-up. I know there is a lot of hype over St.Ives, but I found that this product is just as great. It is a bit tough on the skin, so you will want to moisturize after, but it makes your face feel clean and refreshed.
5. Yes to Coconuts Lip Balm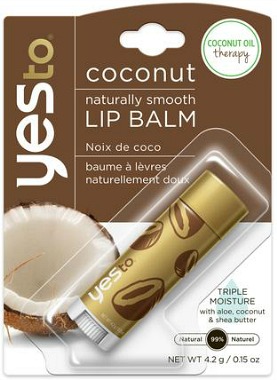 $2.99 at Target
Just like Burt's Bees, I'm assuming most of you know about the wonderful Yes To brand. These all-natural products are made from common ingredients like coconut, cucumber, tomato, carrots, and grapefruit.
I personally do not wear makeup, but a good lip balm is a must-have. And since I'm a huge coconut lover (seriously, I have it all: coconut milk, coconut flour, coconut sugar, coconut oil, etc.), this product is a perfect fit for me. Of course, I love the scent, plus it is probably the softest lip balm I have ever owned. It's a lifesaver for chapped lips.
If you are looking for a new, earth-friendly lip balm, I definitely recommend this one.
Thoughts?
What did you think of this post? Do you use any of these products or other natural products? If so, what is your favorite natural beauty product? Let me know in the comments!