This post may contain affiliate links, which means we may receive a commission if you purchase through our links. Please
read our full disclosure here
.
1. Oil Blotters Are Your Friend.
Have you ever felt grimey halfway through your day? Noticed unwanted shine appearing on your face? Oil blotters will be your new BFF.
I always keep a pack of oil blotters in my bag for those occasions when my face gets oily during the day. Instead of applying more makeup or washing your face, use these for a quick touch up. They even make oil blotting sheets that won't disturb your makeup. My personal favorites are Palladio Rice Paper Powdered Blotting Tissues – they have a small amount of powder on them which further combats facial oil.
2. Invest in Minis.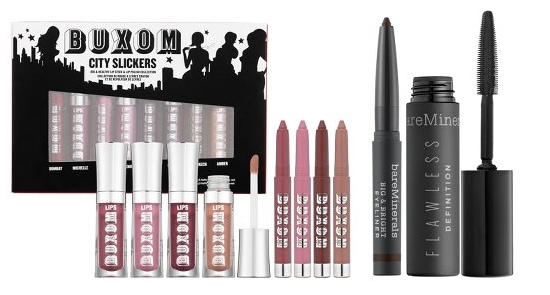 Left: Buxom City Slickers Mini Lip Color Collection Right: BareMinerals Mini Mascara & Eyeliner Duo
I'll admit it: I'm a sucker for tiny mascaras and lipglosses simply for their cuteness, but they do have an actual function! Minis are so easy to fit into your bag or even your pocket, making them perfect for girls on the go.
Personally, I've attempted in the past to haul around some of my full-sized beauty products and found it was not only messy, but the chances of losing a normal-sized tube of mascara or lipgloss increased. Now, I skip those headaches and just carry mini-sized versions of my favorite products in my purse. Mini nail clippers are also awesome for getting rid of pesky and painful hangnails during the day.
3. Learn to Fishtail Braid.
There's no doubt that the fishtail braid is the chicest new take on a regular braid. The fishtail braid adds instant style to your hair and can quickly update your 'do – plus it's perfect for mornings when you need to do your hair fast! I really enjoyed the tutorial from BellaSugar, which gives you step-by-step instructions with photos.
4. De-puff Your Morning Eyes.
It can be frustrating trying to cover up puffy eyes – waiting around for them to deflate is less than desirable, especially when you have a busy schedule. A roll-on gel is my favorite way to battle puffy eyes on a time crunch. Make sure to look at the ingredients in the product before buying or using it – some of the ingredients and fragrances used can irritate your eyes. Try Clinique's De-puffing Eye Serum – it's Allergy Tested and 100% fragrance free.
Want more tips on de-puffing your eyes and looking wide awake in a hurry? See our post on the best eye brighteners!
What Do You Think?
What are your tips for on-the-go beauty? Do you like the look of the fishtail braid? Do you use oil blotters or beauty minis? Let us know what you think in a comment!