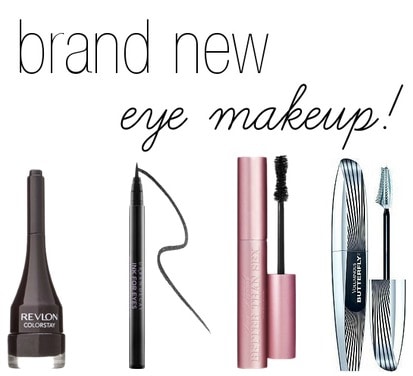 Putting on mascara is one of my favorite parts of every day. (Is that weird? I didn't think so!) I can skip every other part of my makeup routine, but I still have to apply mascara or my face just feels a little bit… bare. I also love how a little eyeliner can make your entire makeup look defined and put-together, so it's another one of my makeup must-haves.
Predictably, I go a little insane when I see that there's a new eyeliner or mascara out, and I just have to try them. Below, I'm reviewing four recently released eyeliners and mascaras. Read on to find out what they are.
Urban Decay Ink For Eyes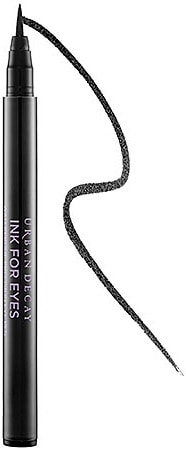 $20 at Sephora
It's no secret that I'm obsessed with Urban Decay products, and when I saw that UD had a new eyeliner out, I had to go buy it immediately. Ink For Eyes is literally just that – a jet black, almost shiny definition for your eyes. It applies really smoothly, and is also waterproof.
Creating a winged liner look is super easy with this felt-tip pen eyeliner, since a simple flick of the wrist can change the thickness of the line. A quick tip on applying this eyeliner: use it after you've curled your lashes and applied mascara. Sounds weird, but trust me. Liquid liner sometimes comes off when you curl your lashes!
Revlon Colorstay Creme Gel Eyeliner
$9.99 at Ulta
I am a HUGE fan of gel eyeliner. I love how smoothly it applies, plus it's really easy to control, which means you can get the perfect line. Unless they're waterproof, most gel eyeliners tend to smudge and come off pretty easily, but this one from Revlon stays on forever.
In fact, I can apply it at the beginning of the day and it lasts even when I take off my makeup. Now, that can be annoying for some people, but I really don't mind! I like knowing that my eyeliner is lasting as long as it should. Just use a good eye makeup remover with this one.
This eyeliner also includes a brush, which makes it really convenient to apply. Gel eyeliner takes a while to get used to, but once you learn how to use it, you'll never go back!

Too Faced Better Than Sex Mascara

$23 at Sephora
The name of this mascara is just a little suggestive, but hey, it's an incredible mascara. Better Than Sex by Too Faced is a very intense black, and the hourglass-shaped brush means that every lash is coated and volumized with one swipe. The price is a little bit high, but I justify it by saying this one is only for special occasions!
Another thing I love about this mascara is the fact that you can layer the coats and it doesn't look cakey or clumpy. It's very smooth, and it's not "too much" if you don't want it to be. I almost like this better than I like Benefit's They're Real simply because it adds a little bit more oomph, if you catch my drift!
L'Oreal Voluminous Butterfly Mascara

$8.99 at Ulta
This is my new favorite everyday mascara. Now, the name says "Voluminous" but really, I consider this one by L'Oreal to be a gentle volume mascara. It doesn't add too much volume, and it keeps my lashes curled all day. I love how intense the color is, and the fact that it doesn't flake throughout the day. The only downside is that it's not incredibly long-lasting.
This mascara claims that it will make your lashes flutter like a butterfly, which is a bit of a stretch, but I love it anyway. I actually already plan to repurchase this, which is rare in a drugstore mascara!
Sidenote: I'm also very excited for the United States release of the L'Oreal Miss Manga mascara, which is currently only available in the UK. When that comes out I will do a full review! I've heard some mixed reviews, but I'm looking forward to trying it.
What do you think?
Have you tried any new eye makeup products lately? Have you tried any of these ones, or do you have favorites you want to share? Let me know in the comments!