This post may contain affiliate links, which means we may receive a commission if you purchase through our links. Please
read our full disclosure here
.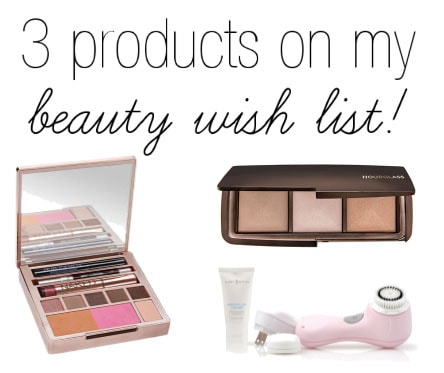 It's the start of a new season, which means drugstore makeup brands are starting to roll out some fun new products for fall. I love the beginning of seasons for exactly that reason. It's so neat to see what innovations are being made and if there's any new makeup that stands out.
This season, I have four makeup products from Milani, NYX, and Maybelline that I'm going to review. Read on to learn more about these killer new products!
Milani Constellation Gel Eyeliner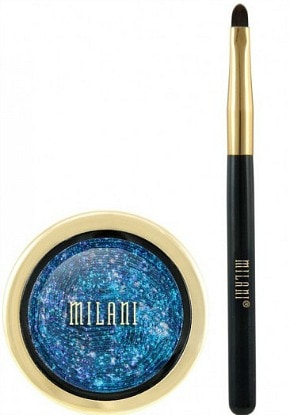 $5.99 at MilaniCosmetics.com
These new gel eyeliners from Milani are so beautiful. Unfortunately, that pretty swirled effect is only a spray-on sparkle, but the color itself is stunning – there is enough sparkle in the color that you don't need the spray-on on the top.
When I first used it with the brush, I was impressed with how smoothly the product applied and how pigmented it was. I can compare the texture of these to Stila's gel eyeliners, which are amazing, too.
There are two other colors besides the one pictured, which is called "Lapis." There is "Black Opal," a gold-black, and "Emerald," a pretty gold-green. Definitely give these a try if you want to incorporate metallics into your fall makeup look!
Maybelline Brow Drama Sculpting Brow Mascara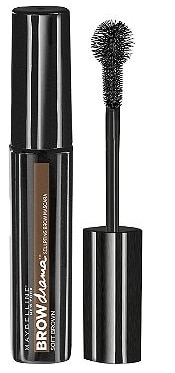 $7.99 at Ulta
I am eyebrow-obsessed. I'm always trying to find the best way to do my brows without making them too harsh or dark for my face. I'm also trying to find the best natural-looking color for them. Well, I think Benefit's Gimme Brow needs to move over for this more-affordable dupe by Maybelline! At $7.99, this product is a great value and works wonderfully, too.
It's tinted with a medium brown shade – it comes in other colors! – and you simply brush it onto your eyebrows. Not only does it fill them in enough, but it keeps them in place all day without that "crunchy" feel (You know what I mean!). Give this a try if you're looking to have fab and easy-to-do eyebrows.
NYX Radiant Finishing Powder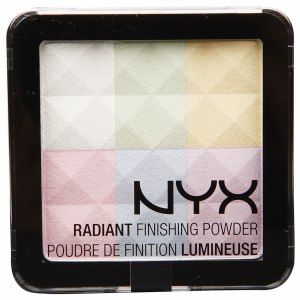 $9 at Drugstore.com
This product might not be completely new, but it's definitely in new packaging and the texture has improved 100%. NYX always has great blushes and bronzers, but I was always skeptical of powders with the word "radiant" in it… because for me, radiant means sparkly and I don't necessary like sparkle on my face. However, this powder is gorgeous.
It adds the right amount of light shimmer to your face and does a good job of slight color-correcting. Since I apply this over all of my makeup, I don't want it to add any color, so the fact that it color-corrects slightly is perfect for me. I also use this on top of just moisturizer when I'm having a "lazy makeup" day!
Maybelline Great Lash Real Impact Mascara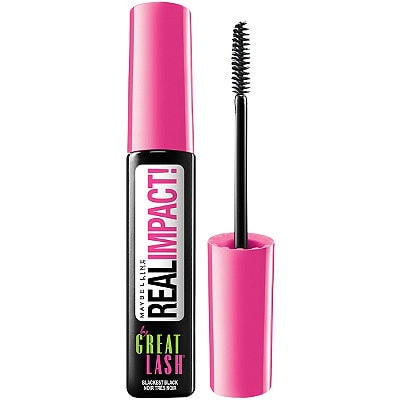 $5.99 at Ulta
I am a huge fan of Maybelline's original Great Lash mascara. It's cheap, it works well, and the formula never changes. It's basically a reliable, go-to mascara for me! However, this new formula is fantastic. I was so excited to see this that I had to try it, and I'm glad I did. It gives you big lashes that look natural without any artificial waxes.
To me, the bigger, the better when it comes to lashes, and this product definitely delivered. And for the price? You have to try it! It does flake after a long day of wear, but I found that the original Great Lash does that, as well.
What do you think?
What are some new drugstore products you want to try? Have you tried any of these? Would you like to see more posts like this? Remember to tell us your thoughts by leaving a comment!