This post may contain affiliate links, which means we may receive a commission if you purchase through our links. Please
read our full disclosure here
.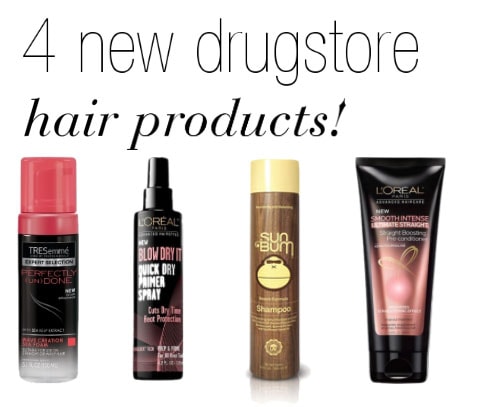 I love trying out new hair products. They're a fun thing to shop for and it's so easy to change up your look with something new. The best part? If you don't like the results, you can always go back to your tried-and-true favorites.
I decided to take a trip to my local drugstore, grab a few new products, and put them to the test. Below are four noteworthy hair products from my experiment. Read on to learn more about each one:
Tresemme Perfectly Undone Wave Creation Sea Foam
$7.99 at Ulta
I love the look of "undone" hair. It's such an easy way to get nice looking hair on those days where you're feeling lazy or in a rush to get out the door. This Tresemme mousse is a really awesome product that will help you create fabulous waves. The mousse is not super-thick – instead, it's nice and light and doesn't leave your hair feeling "crunchy."
Here's how I use it: I apply the mousse throughout my hair, lightly twist and scrunch small sections, then let it air dry. Sometimes I'll blow dry my hair upside down, but just until it's almost dry. That way, I don't lose any of the waves.
Overall, I'm really impressed with this product, and I think it's going to become a staple for my lazy hair days!
L'Oreal Paris Blow Dry It Quick Dry Primer Spray

$3.99 at Target
The idea of a hair primer is not new, but I had never seen it in spray form, so I was very curious to see how this product worked. L'Oreal's blow dry primer spray is definitely a winner in my book.
I was surprised to find out that it's also a heat protectant and claims to cut blow drying time. This product actually did reduce my time, and although it was noticeable, it didn't cut it in half or anything like that.
The heat protectant was a bonus though, since I didn't know it was one. Everyone who uses heat on their hair should be using a heat protectant of some form, so this product is really the perfect all-in-one hair product for the bargain shopper.
Sun Bum Beach Formula Shampoo
$14.99 at Ulta
This is a little pricy for a drugstore brand, but I think it's worth every penny! I've been using Sun Bum sunscreens for a long time, so I decided to pick up this shampoo and try it out during my recent vacation to Puerto Rico.
This clarifying shampoo claims to remove chlorine and saltwater build-up from your hair, and since my very blonde hair tends to take to chlorine pretty easily, I was eager to try it out.
After using it, I noticed my hair was more moisturized – even after a long day in the ocean. That really impressed me, because saltwater and sun really dries out my hair. If you're headed on vacation soon or spend a lot of time at the pool or beach during spring and summer, I recommend purchasing this shampoo.
L'Oreal Paris Ultimate Straight Boosting Pre-Conditioner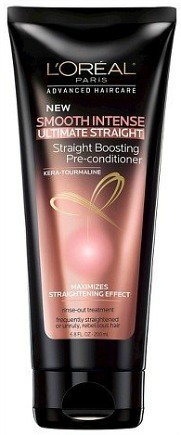 $6 at Walmart
I was skeptical about trying this product because I had no idea what a pre-conditioner was. However, after using it, I'm definitely a convert. This L'Oreal hair product is used in-between shampoo and real conditioner, and it helps prepare your hair for straightening by adding keratin extract and heat protection.
It's not a totally necessary product for everyone. I would only recommend this to people that use heat on their hair very often, especially if they use a flat iron. It's a unique new product and the price is low, so give it a try if you like the look of straight hair.
What do you think?
What are your favorite new hair products? Do you use any of these? Would you like to see more posts like this in the future? Remember to tell us your thoughts by leaving a comment!