Although I still have a few more weeks until Spring Break, the latest spring beauty trends allow me to daydream of a relaxing day at the pool and pretty spring flowers. I absolutely love spring beauty trends because they are always so fresh and fun – a definite change from the stark, moody looks we all rocked this winter.
In this post, I will break down the four hottest spring beauty trends and what products you can use. But most importantly, I will show you how to get each look with products that every college student, regardless of their skin type or skin tone, can wear. Trends are never exclusive if you find the right products.
Enough of the winter blues, let's transition into the warm spring!
Trend #1: Tangerine Lips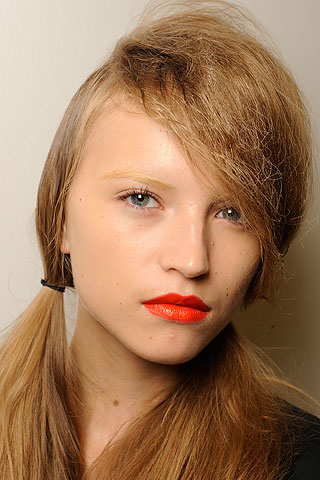 Prada Spring 2010 – Photo Credit
Shocking orange lipstick covered the models' lips at the Spring 2010 Prada runway. While this look is bold, daring, and fun, it may be difficult for the everyday college student to pull this look off without looking clownish. But don't worry, there are several ways you can rock this look without going full-on neon tangerine.
The Products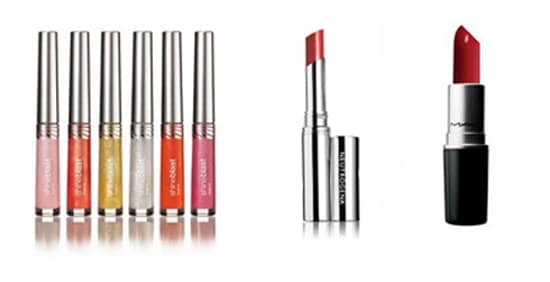 Cover Girl Shine Blast Lipgloss in Fire, Neutrogena LipSheers in Peach Sorbet, MAC Lipstick in Lady Danger
Cover Girl Shine Blast Lipgloss in Fire – $7.49
Renowned makeup artist Pat McGrath is a major contributor to the Cover Girl cosmetics line. Instead of choosing a bold orange lipstick for spring, she recommended this gorgeous orange lip gloss. This product would be great for those of you who want a lighter version of this bold trend. This new line of lip glosses is absolutely amazing and they have great colors for the spring and summer seasons.
Neutrogena MoistureShine Soothing LipSheers in Peach Sorbet – $8.99
Neutrogena's LipSheers are great because they offer a pop of color without the opaqueness of lipstick or the stickiness of a gloss. LipSheers is the perfect in-between lip product, which I think is great for college students. The peach color will add a great splash of color to your look without looking too daring. In addition, unlike most colored lip products I use, LipSheers actually feels like it is moisturizing my lips.
MAC Matte Lipstick in Lady Danger – $14
If you really want to take the plunge, I recommend this lipstick, which was the actual shade used in several Spring 2010 runway shows! This is the perfect lipstick for the bold red-orange trend. In addition, you can never go wrong with MAC lipsticks because they always have great color payoff and a smooth finish. If you're looking for a funky alternative to the classic red, this lipstick is the one for you!
Trend #2: Lilac Eyes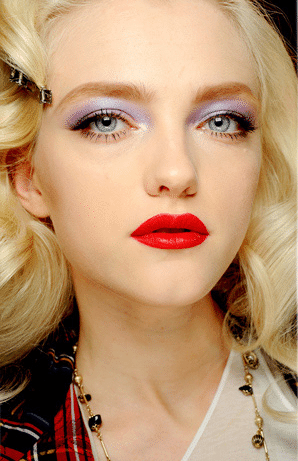 Dior Spring 2010 – Photo Credit
My favorite color is purple so you can imagine my excitement when I saw that lilac eye shadow was a top beauty trend this spring. What I love most about this trend is that anyone with any skin tone or eye color can pull it off! I think the best trends are the ones that every girl can try, regardless of their coloring. Plus, eye shadow is so versatile that you can control how heavy or sheer you want your look to be.
The Products

MAC Eyeshadow in Crystal, NYX Eyeshadow in Frosted Lilac, and Milani Runway Eyes Fashion Shadows in Couture in Purples
MAC Eye Shadow in Crystal – $14.50
This gorgeous shade of lilac looks amazing on brown-eyed girls like myself. It is a beautiful light purple with hints of silver. You can wear it alone for a flattering everyday look or play it up with gunmetal hues for smokey eyes. If you want to wear this trend without going too crazy, this shade is the perfect choice.
NYX Eye Shadow in Frosted Lilac – $3.50
This eye shadow hits the lilac trend spot on. It is the perfect shade of purple that will help you achieve the gorgeous looks seen on the Christian Dior Spring 2010 runway (photo above). In addition, you would be surprised how pigmented these eye shadows are for their price. In fact, they are often compared to MAC eye shadows for their color selection and pigmentation! Frosted Lilac is an amazing shade that doesn't look cheap and flatters all skin tones.
Milani Runway Eye Fashion Shadows in Couture in Purples – $8.99
Can't decide which shade of purple is right for you? With six different shades of purple, these Milani eyeshadows will help you find the right color for your skin tone or eye color. If you have a passion for purples like me, this is your dream eye shadow palette. The colors are also highly pigmented; you won't even know they are a drugstore brand!
Trend #3: Fresh, Glowing Skin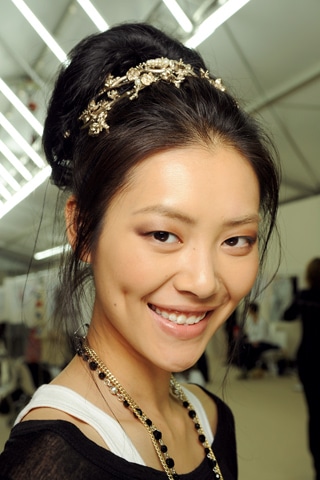 Chanel Spring 2010 – Photo Credit
When I think of spring, I think of fresh, healthy-looking skin. Enough of that dull winter skin business, let your skin shine this season!
As seen on the Chanel Spring 2010 runways, the fresh, bare-skinned look is my absolute favorite look because natural, healthy-looking skin is flattering on everyone. However, pulling off this look will vary depending on your skin type. That's why I included a variety of products that will help everyone achieve this look.
The Products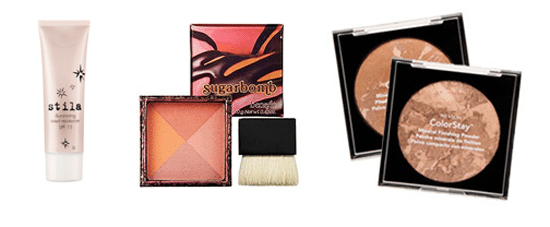 Stila's Illuminating Tinted Moisturizer, Benefit SugarBomb Blush, Revlon Colorstay Mineralized Finishing Powders
Stila's Illuminating Tinted Moisturizer – $32
This tinted moisturizer is great because it contains small amounts of shimmer that will blur imperfections and help you achieve that fresh look. It's a great spring product because since it is a tinted moisturizer, it will feel lighter on your skin than foundation. This product is best for normal/dry skin types because it will hydrate your skin and add a bit of shine. If you have oily skin, use setting powder on top to reduce the appearance of shine. You can also just dab this product on your cheekbones and brow bone for a similar look.
Benefit's Sugarbomb Blush – $28
This blush is great because it contains a mixture of different shades that combine to make a gorgeous hue that will flatter any skin tone. The shades of rose, shimmering pink, soft plum, and peach blend together perfectly for a delicious "sugar rush flush." It will definitely give you a unique, glowly finish that no other blush can give you.
Revlon Colorstay Mineral Finishing Powders – $13.99
If you enjoyed my post on the Top 5 Cult Beauty Product Substitutes, you will love these powders. They are the best drugstore dupe for MAC's Mineralized Skin Finishes. They come in three different shades that are versatile enough to flatter almost any skin tone. If you have oily skin but still want that dewy look, dust some of this powder on your cheekbones to give you that healthy glow. It is not an all-over face product, though, so you do not have to worry about looking too shiny.
Trend #4: Nice Girl Nudes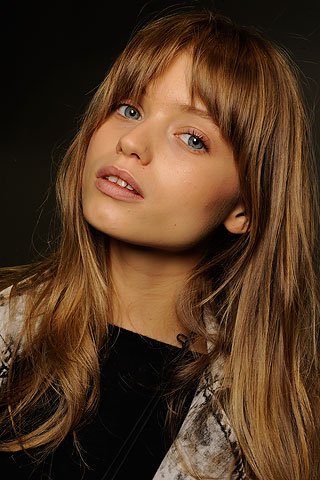 Stella McCartney Spring 2010 – Photo Credit
If vibrant, orange-red lipstick and lilac eye shadow are not necessarily your things, don't worry: basic nude shades are also extremely popular this season!
The Products

Maybelline Lipstick in Nude Blush, Chanel Nail Colour in Particuliere, and Cover Girl Eye Enhancers in Shimmering Sands
Maybelline Moisture Extreme Lipstick in Nude Blush – $4.49
This nude lipstick is fabulous. First of all, Maybelline lipsticks always have a smooth application. Second, this is a perfect pink-nude shade. I've always struggled to the find the right nude color, but this was the answer to my prayers. It gives you an incredibly natural-looking nude lip without washing you out. You can wear it alone as a lipstick or spice it up with a bit of clear gloss.
Chanel Le Vernis Nail Colour in Particuliere – $23
This nail polish is not what would be considered your typical "nude" color: it's a beautiful taupe mushroom color that is unlike any nail polish shade I've seen before. However, despite being a "nude", this color is not necessarily universally flattering – it can tend to look a bit dirty on some girls (like myself). But overall I think it is a gorgeous color and is definitely super trendy for spring. Being Chanel, it is expensive for a nail polish at $23; however, I am positive there will be some drugstore substitutes to come!
Covergirl Eye Enhancers in Shimmering Sands – $4.69
Shimmering Sands eyeshadow is perfect for an everyday school look. The color palette contains universally-flattering colors with a hint of shimmer. If you're just starting out in makeup, this is the best palette to start off with because it's practically foolproof. I absolutely love neutral shades, so these colors are some of my favorites.
Your thoughts?
What are your favorite spring beauty trends this season? Which trends will you be wearing? Also, if you know of a product that fits this season's beauty trends–please share!