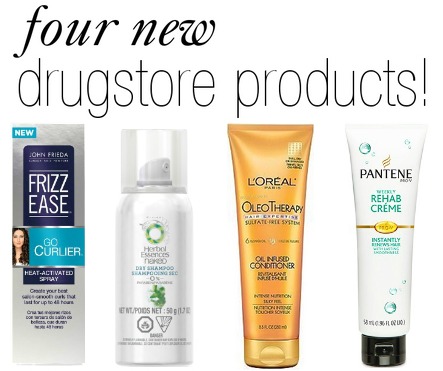 Although we're only about five weeks into 2014, this has been an amazing year for new beauty products. During January and February, drugstore hair and makeup brands always launch a bunch of new items, so now is the perfect time to try out some new budget-conscious beauty buys.
In fact, I've found four brand new hair care products that are on my must-have list. Read on to learn more about each one:
John Frieda Frizz Ease Go Curlier Heat-Activated Spray

$8.99 at Target
This spray, by John Frieda, is meant to enhance your curls, not relax them or minimize them like a lot of "curly" hair products do. This one makes your curls larger-than-life and helps them keep their beautiful, natural shape. Finally, a major hair care brand is focusing on curly hair, rather than the stick-straight hair other brands seem to gravitate toward. I love John Frieda for that!
To use this, I suggest running it through your hair, then using adiffuser to dry your curls, since using your hands to dry them can make them frizzy. A diffuser makes them look polished!
Pantene Pro-V Weekly Rehab Creme

$7.99 at Drugstore.com
This product is part of Pantene's new Detox line. This hair care line is meant to "refresh" and help repair hair from oxidative damage from chemicals or minerals, which can come from the water in your shower.
This Rehab Creme is similar to a hair mask – you apply it once a week and, depending on your hair type, rinse it out after 5-10 minutes. It claims to seal damaged cuticles, which is always great for us girls with damaged tresses!
L'Oreal Oleo Therapy Oil Infused Conditioner and Shampoo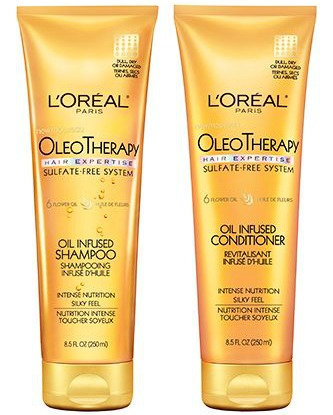 $6.99 each at Ulta
I love L'Oreal's "therapy" lines. I remember using their first line like this, which was for colored hair. It was sulfate-free and so amazing that I used that shampoo and conditioner for almost two years!
When I came across the OleoTherapy collection, I knew I needed them. Not only are they sulfate-free, but they use oil to condition your hair and repair any damage. Although it may seem counter-intuitive, putting oil on your hair actually helps it in so many ways.
Herbal Essences Naked Dry Shampoo

$6.99 at Walgreens
This dry shampoo, from Herbal Essences' new Naked line, is sulfate-free, paraben-free, and 100% all-natural. The product is made with a tapioca formula, so it absorbs oil naturally.
Because it contains no chemicals, it's better for your scalp than traditional dry shampoos. The scent is also heavenly. It's peppermint-scented, so this dry shampoo definitely makes your hair and scalp feel (and smell!) so fresh.
What do you think?
What do you think of these new hair products? Have you tried any of these yet? Leave a comment below and let us know!