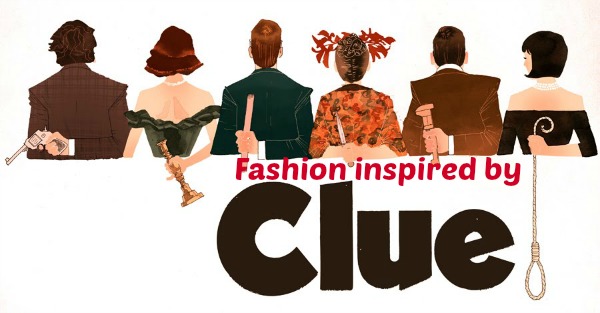 When I go to the drugstore to look for new hair products, sometimes I get so overwhelmed with the amount of brands and types of products that I just give up. Or, I just continue to buy the same products over and over again! Well, not anymore. I recently took a trip to my closest drugstore, looked through the shelves, and bought the products that caught my eye.
I've given those products a try, and wanted to write about four of my new favorite drugstore hair products. Read on to learn what they are:
1. Shea Moisture Yucca & Aloe Thickening Growth Milk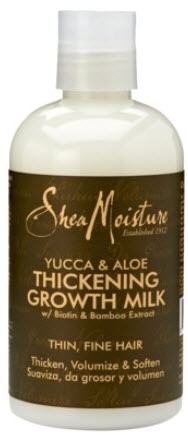 $10.99 at CVS
At first glance, this stuff sounds a bit scary. Thickening growth milk? Well, never fear – this is an amazing product. Basically, this is a leave-in conditioner with vitamins, like biotin, to help your hair to grow faster.
After washing, you put the tiniest pea-sized amount in your hair, then blow-dry and style as usual. I am not kidding when I tell you that my hair was so voluminous and soft that I was actually shocked.
On top of that, it's sulfate-free and free of synthetic colors, plus the yucca extract helps to thicken your hair while making it voluminous. I will definitely be keeping this one in my cabinet, and I'm excited to see if it actually makes my hair grow!
2. Organix Brazilian Keratin Therapy Flat Iron Spray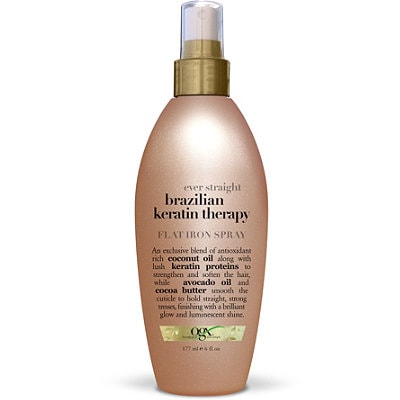 $5.74 at Walmart
Okay, I lied. This one is not a new product to me! It's actually one of my absolute favorites – a product I always go back to and repurchase. I use this Organix heat protecting spray every time I straighten or curl my hair, and I just love how it doesn't make it feel stiff or dull.
It also smells like the beach, which is a huge plus in my book! I'm not the biggest fan of the Organix line as a whole, but this product stands out in an awesome way.
3. Garnier Fructis Style Full Control Anti-Humidity Hairspray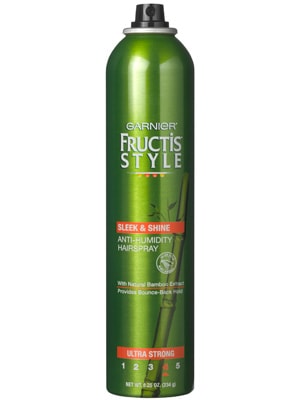 $3.49 at Target
I mentioned a few posts ago that I wanted to try out more Garnier products, so I did! This hairspray is amazing. It's smells awesome and keeps your hair in place without getting stiff.
It's perfect for when you straighten your hair or lightly curl it and just need a bit of hold. Honestly, I spray this on my hair about three times a day because I just love the scent. Go to the store and pick up this hairspray. It's only $3.49, so you have no excuse to not give it a try!
4. L'Oreal Paris Advanced Haircare Smooth Intense Polishing Conditioner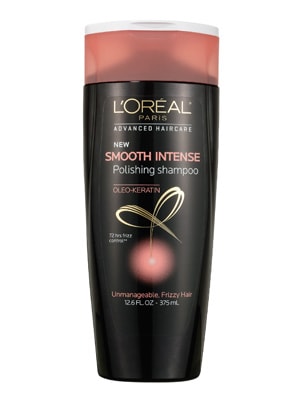 $4.99 at Walgreens
I am obsessed with L'Oreal Paris' Advanced Haircare line. I seriously want to try everything in the line, so I'm just making my way through all of the products. This conditioner is my favorite so far because it makes my hair feel fantastic.
I straighten my hair a lot during the school year, which can lead to damaged locks, and this made my hair feel like it was "fixed." I'm super-excited to continue to use this product to see if there actually is a real difference in my hair's condition!
What do you think?
What are your favorite drugstore hair products? Have you tried any of these? Would you like to see more posts like this? Remember to tell us your thoughts by leaving a comment!