This post may contain affiliate links, which means we may receive a commission if you purchase through our links. Please
read our full disclosure here
.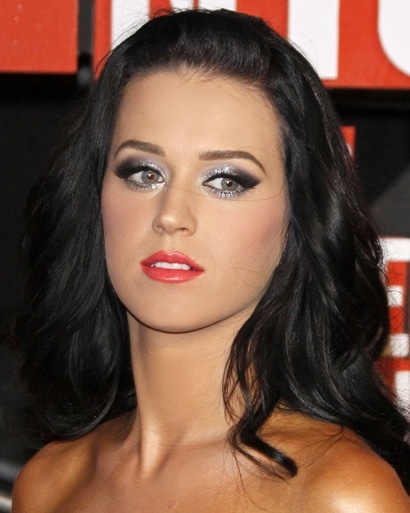 Katy Perry rocks eyeshadow accented with loose glitter | Photo via ELLE
As a CF girl, I love finding new and interesting ways to play with makeup! And one of those is the dimensional cosmetics trend, which can bring a glamorous boost to any look. Dimensional cosmetics can include the use of paper stencils, temporary tattoos, or even gold leaf! I hope these will allow you even more ways to express yourself in an original and dramatic fashion.
1. Paper Stencils
Whether you want to go smoky, fantasy, goth or geometric, you can create drama and dimension with paper stencils, which when applied, make your eyeshadow look as though you have been in the chair of an airbrush artist! The designs you can create from these stencils are endless, and all you need is some poster board, a Xacto knife, some makeup and you're good to go!
Many local craft stores also have pre-cut stencils you can buy, even if they are not necessarily for your face. Take advantage of those eye shadows you don't normally wear and use high contrast to create lots of drama and depth.
2. Temporary Tattoos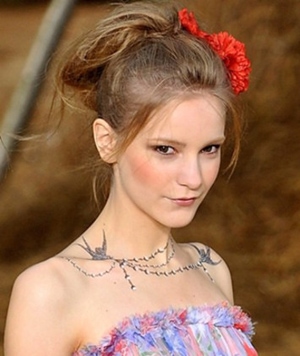 Chanel temporary tattoos | Photo via ELLE
The designer temporary tattoos that have been popping up for the past few seasons aren't the kiddish ones we are used to! Not only will they alleviate the need for teenage rebellion and make your parents breathe a sigh of relief, but they are a great way to experiment without taking the plunge. They're maybe even a way to find out if a tattoo would be right for you!
You can experiment with press-on tattoos like those from the Chanel runways (Amazon is selling a pack of 55 designs for around $20 each), or pick up some body paint from your local craft store and go wild! There's also the always-popular henna which is a more semi-permanent solution that can be an elegant way to stand out in a crowd.
3. Gold Leaf Sheets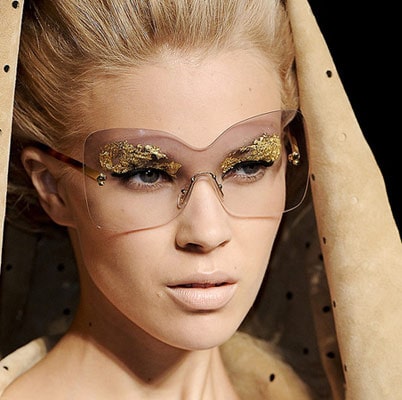 Gold leaf eye makeup at Fendi Spring 2012 | Photo via ELLE
You don't have to go all out like the Fendi model above, but take a cue from Cleopatra and accent your eyes and cheekbones with gold leaf flakes! Gold leaf will not cause breakouts, is edible, and looks totally original! Gold leaf can be purchased at online cosmetic stores or even at the craft store (which may be way cheaper). This can be a fun way to glam up a night out, don't be afraid to push the envelope.
What do you think?
Would you ever experiment with any of these ideas? Do you like any other unique dimensional cosmetics or do you shy away from avant garde makeup looks? Tell me what you think!