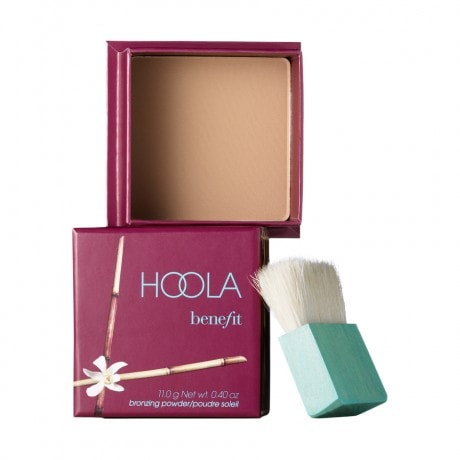 Benefit is probably one of the best-known cosmetics lines out there. Their products are trustworthy, the packaging is super-fun, and the products are not as pricey as some other high-end brands. Overall, they're a solid brand.
However, there are a few products that stand out much more than others. Below are three of my favorite Benefit products. In my opinion, they're the best of the bunch! Read on to learn what they are.
Hoola Bronzer
This is probably the best neutral bronzer you could ever find. It's perfect for everyday wear and also looks great as a contour. Basically, it's the best natural-looking fake-tan bronzer you can buy.
It goes on so well, although I don't recommend using the brush it came with. The only thing that brush is good for (if anything) is to contour your cheekbones. It's hard to use and the bristles are pretty spread out.
Aside from the brush, this is an incredible bronzer. Because there's no shimmer in it at all, you can use it all over your face. It can be layered, so you can build it up if you want a darker, more intense look. You could also use this as a body bronzer, so you'll be getting a lot of bang for your buck with this product.
As a bonus, the packaging is adorable, and keeps the bronzer from going everywhere, which sometimes happens with those large bronzer brushes.
Roller Lash Mascara
I'm always buying new mascaras and trying them out. I'm sort of addicted to them. If there's one product I can't live without, it's mascara. I was previously loving Benefit's They're Real mascara, but this one, called Roller Lash, has become my new favorite.
This mascara truly curls your lashes and keeps the curl from falling flat. I actually like that I can feel this mascara on my lashes, unlike some that just feel light and barely there.
The brush is small, but it's perfect for separating each lash and coating them perfectly. It truly helps to curl them, as crazy as that sounds. I curl my lashes before using this, and this mascara lifts my lashes up and makes them look almost fake – in a good way.
I'm not kidding when I say that I like this more than They're Real. I promise, it's better. If you're looking for a new mascara, give this one a try.
Speed Brow
I've talked about Benefit's Gimme Brow before, and it's definitely a great product that I use a lot. However, this brow gel, called Speed Brow, creates a more natural look that's actually really awesome.
It's a lightly tinted brow gel that comes in just one color and basically just amplifies the brows you have. It keeps everything in place and your eyebrows looking natural, but in a "your-brows-but-better" way.
I also like to use this over a brow pencil. This product acts as a "perfector" and makes your brows look awesome. I love how much of a multitasker this product is, and for the price, it's great. It is slightly expensive, but I think it's worth every penny.
What do you think?
What are your favorite Benefit products? Do you use any of these products? Would you like to see more posts like this in the future? Remember to tell us your thoughts by leaving a comment!