This post may contain affiliate links, which means we may receive a commission if you purchase through our links. Please
read our full disclosure here
.
New Year's Eve 2011 is almost here, and whether you are planning to spend a glamorous evening at a club or something more intimate with close friends, how to wear your hair should be the least of your worries. (After all, we usually spend more time on our New Year's Eve outfits and New Year's Eve makeup!)
Below, I'll show you three simple, yet beautiful hairstyles to wear while ringing in the new year.
1. The Topknot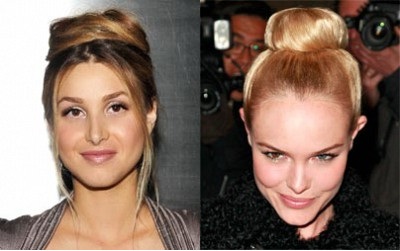 Photo Courtesy of Elle.com
The topknot has been huge this year, and for good reason. The hairstyle works for everyday casual looks, but is totally perfect for special occasions, too. Lauren Conrad is the first celeb to come to mind when I think of topknots, but her "Hills" costar, Whitney Port dons a lovely slightly messy topknot herself. Kate Bosworth's 'do is super sleek and reminiscent of a ballerina bun.
To achieve the topknot, simply pull hair into a high pony and secure with a clear or neutral elastic. Then wrap your hair around the elastic and secure with bobby pins. Voila!
The hairstyle works for both curly and straight hair as long as it is styled correctly. Simply make sure the top-knot isn't too wide or flat on your head and you're set! I also suggest using a serum – such as John Frieda Frizz Ease – to fight flyaways.
A top-knot pairs perfectly with your favorite LBD for New Year's. Since the top-knot keeps all your hair up it allows more attention to be on your gorge face. So, consider wearing a statement lip in a classic red or even a bright trendy shade. Just be sure to keep the rest of your makeup neutral. Since it's NYE, however, adding your sparkliest, most blinged-out earrings creates an even greater statement.
2. A Messy Side-Pony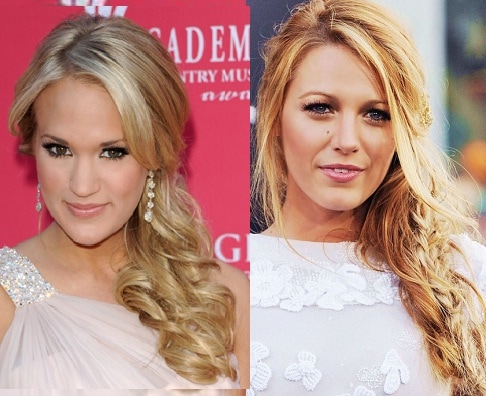 Photo Courtesy of Elle.com
The side ponytail and side braid have both been extremely popular this year. These messy, casual styles are perfect for hair that hasn't been washed for a day, making them super simple to achieve.
Blake Lively's version would look stunning with a sparkly minidress for NYE, while Carrie Underwood's side ponytail would pair great with a classic cocktail dress in an a-line shape.
To achieve either of these looks, pull hair into a low ponytail that is slightly off-centered. For Underwood's version, use a curling iron to create glossy curls and finish with a long-lasting hairspray. To create Lively's version, which is a little more daring, add a few random small braids to hair and use a pomade to create texture and volume. You could also use a curling iron to create waves, but separate the curls to achieve the more carefree look.
3. A Centered or Deep Side Part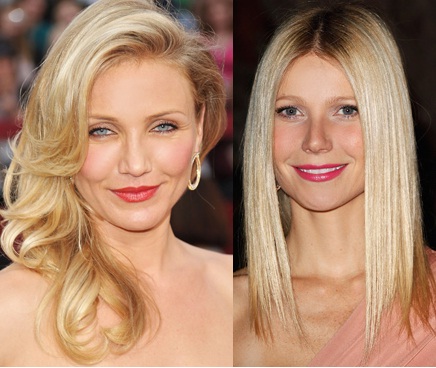 Photo Courtesy of Elle.com
This is the simplest hairstyle of the three, but can easily create a huge impact. Whether you usually wear a centered or off-centered part in your hair, simply do the opposite to create a new look.
Personally, I usually wear my hair parted slightly off-centered, but for NYE, I will use a deep side part with big, glamorous curls for a romantic look. A center part is most dramatic when hair is worn straight and sleek like Gwyneth Paltrow's.
The secret to parting hair in a place it's not used to is to blow dry it into place – start when hair is soaking wet, and blow dry until completely dry. Then, use gel and/or hairspray to secure the front or bangs in place.
Your Thoughts?
What do you think of these celebrity-inspired hairstyles? Do you plan to try something new with your hair for NYE? Be sure to leave a comment and let us know.