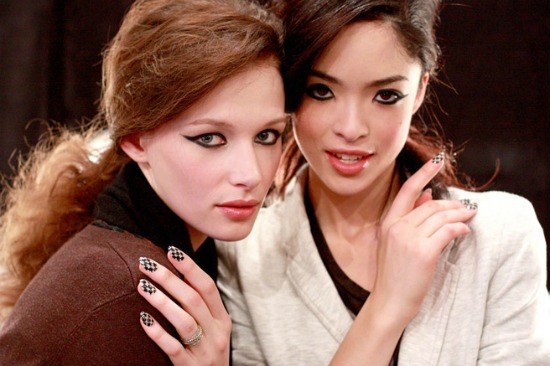 Photo: ELLE
Every season, at least one fresh new beauty trend emerges and really takes off. A few years back, it was the incredibly stunning ombré hair trend. Last year, pastels and hair chalk reigned supreme. (Just between you and me, I love putting the entire rainbow on my head and just doing everyday errands. It's so much fun, I promise!)
This year, however, the hair and makeup trends are a little more bold and artsy, which I'm loving! Below, I've rounded up three must-try beauty trends for fall 2013:
1. Splashlights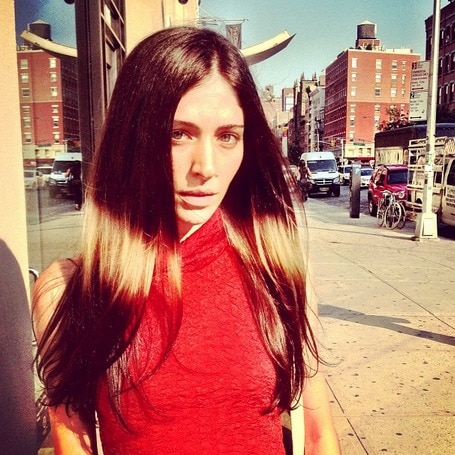 Photo via Aura Friedman's Instagram
You're probably thinking, "what the heck is a 'splashlight'?" Right, that was my reaction as well. A splashlight is a two-inch tall blonde streak that moves horizontally across your head. And when I say blonde, I mean blonde, like platinum mirror-like blonde.
The idea was pioneered by a colorist at Sally Hershberger salons in New York named Aura Friedman who wanted her clients to feel angelic. Friedman is a pioneer in the hair color world; she actually started the original ombré trend with singer MIA.
Splashlights make your locks look like they've been hit by a spotlight or ray of sunlight, and I couldn't love it more. If you want this beautiful new trend, ask your colorist to dye the blonde first and then dye the top and bottom the same dark brown shade. That way it will look even and glowing!

2. Metallic Lips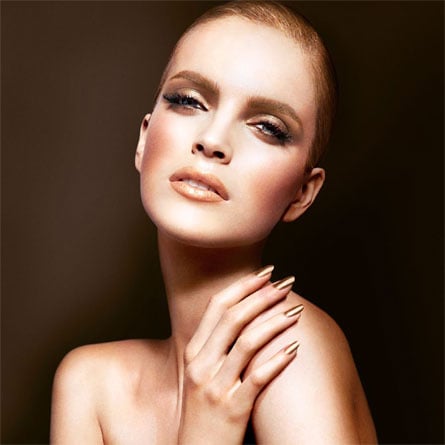 Photo: ELLE
Don't be scared, your lips won't look like aluminum foil! This look is actually much more subtle than one would think. Premiering at the Dior Haute Couture Autumn/Winter 2013 show by incredibly talented makeup artist Pat McGrath, metallic lips reigned in colors such as lilac, rose gold, and bronze.
Here's a super easy way to get this look:
Take a shade of lipstick you already love and apply that to your lips.
Apply a shimmery clear or light colored gloss on top of the lip color.
To add the metallic look, take tiny bit of metallic eyeshadow and tap it on!
In 3 easy steps, you can have runway-worthy makeup look! Keep the rest of your makeup simple, and go blush- and bronzer-free to keep the focus on your lips.
3. "Moon Candy" Nail Polish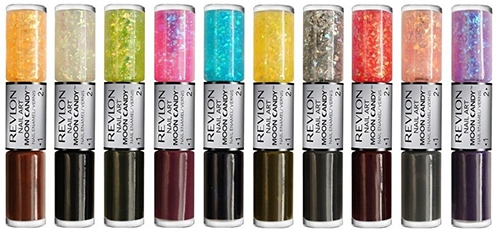 Revlon's Moon Candy Nail Polishes – $8.99 each at Ulta
This cosmic nail polish-duo has been showing up all over magazines and I was dying to try it. However, I was upset when I found out it wasn't candy-scented…but that's just my personal problem.
The colors themselves are really neat and trendy, and the glitter polish is not exactly what you'd consider glittery, but more like shimmery and glisten-y.
The color combo that really got me was the gleaming black with the light gold flake polish called Cosmic. Needless to say, this polish lived up to its name and quickly became one of my favorites.
This trend is not at all juvenile, but instead a grown-up take on sparkly nail polish. I would love to see these polishes on perfectly-filed stiletto nails or almond-shaped long nails!
Your thoughts?
Do you love these new fall beauty trends? Have you tried any of them? Do you like the look of splashlights? What are your favorite fall beauty trends? Be sure to let me know what you think in the comments!