Fall has finally arrived! Yes, I know that means we're all back to school and the daily grind, but it also brings fresh, new trends to test out. Now that you've stocked up on a new fall wardrobe, why not review and revise your beauty routine for the season, too? After a summer of dewy skin and sheer makeup, the dark and vibrant fall beauty trends are a breath of fresh air.
If you often find the looks from the runway overwhelming, don't worry, we've chosen 3 easy, ready-to-wear beauty looks that will update your look and easily transition from fall into winter.
Ready for the 3 hottest makeup trends of this season? Keep reading to find out.
1. Graphic Eyeliner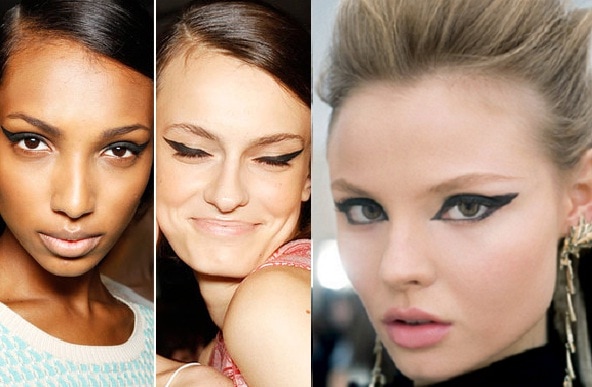 Photos courtesy of ELLE
If you, like me, often play up your peepers, you'll love fall's boldest eye makeup trend: graphic eyeliner.
Smokey eyes are often the norm when the weather cools, so you'll really stand out from the crowd when you rock this sharp, statement-making trend.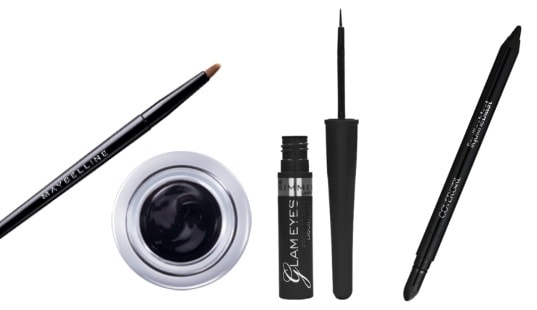 Product Info: 1. Maybelline Lasting Drama EyeStudio Gel Liner, 2. Rimmel Glam'Eyes Liquid Eyeliner, 3. CoverGirl Liquiline Blast Eyeliner
To achieve this look with ease you'll want the right products. Use highly pigmented, smudge-proof eyeliner: Liquid liner works great for this look, although if you're not well practiced with liquid liner, a gel eyeliner (like Maybelline Lasting Drama Gel Liner) applied with a brush, or your basic retractable pencil liner works well, too.
This trend calls for clean, bold lines and begs for experimentation. Don't be afraid to create something all your own! Consider doing your own twist on a classic cat-eye by making the lines thicker or over-exaggerating the wing. Also seen on the runway was winged eyeliner with two thin lines (instead of just one) to mimic the shape of eyelashes.
2. Metallic Lids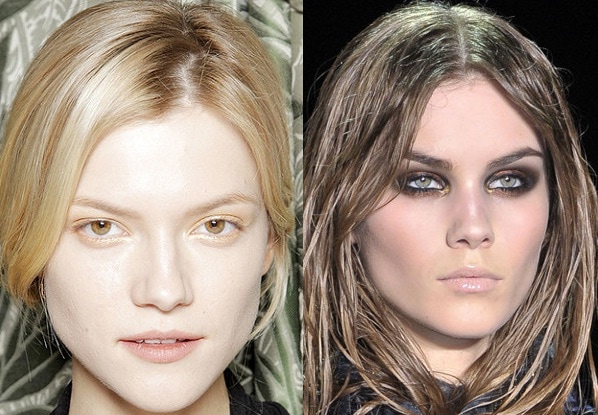 Photos courtesy of ELLE
Metallics were seen all over the runway for Fall 2011 and are perfect to wear on your eyes. Since metallics range from light and bright silvers to bold golds and moody coppers, you will definitely find a shade to complement any eye color.
What makes the metallic eyeshadow trend really great is its range. Metallics can work for day, as demonstrated above left in the Dries Van Noten Fall 2011 runway show. A very sheer and light application of a gold or silver shadow will give your face that extra glow without appearing over-the-top.
Even more breathtaking is using metallics to update the basic smokey eye, as demonstrated above right in the Roberto Cavalli Fall 2011 show. To create this look, apply a deep copper shade over the entire lid and blend toward the brow bone. Add depth with a darker matte shade in the outer crease. Use a small brush to apply the copper shade under your eyes as well. Then apply dark eyeliner in a thin line and finish with a coat of mascara.
Below are a few sample products in a range of metallic shades. L'Oreal's HiP Metallic Shadow and CoverGirl's Smoky Shadow Blast both received great reviews from MakeupAlley and the NARS' 24-karat gold shade is just to die for.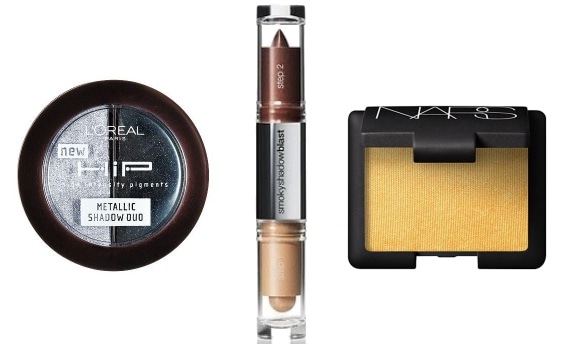 Product Info: 1. L'Oreal HiP Metallic Shadow Duo, 2. CoverGirl Smoky Shadow Blast Shadow Stick, 3. NARS Eyeshadow Single
3. Red Statement Lips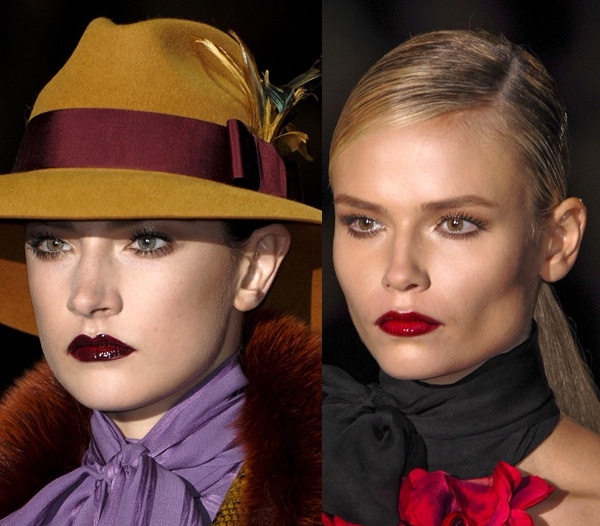 Photos courtesy of ELLE
As Autumn commences, lip shades take a cue from nature: from deep burnt orange shades that match the changing leaves to the fiery hue of a bright candy apple, this season is all about the red statement lip.
The crimson lips above were featured at the Gucci runway show, and while they are so very attention-grabbing, they are absolutely appropriate for real world looks, too.
First of all, find a shade of red you are comfortable in. Personally, with my fair skin and red hair I tend to shy away from warm red shades and instead opt for deep wine hues; luckily, all varieties of red are in this season. What takes a basic red lip and makes it current is finishing it with a shiny gloss.
Below are a few picks for red lips: The Maybelline ColorSensational Lipcolor in Red Revival has been noted countless times as a universally flattering shade. If lipstick isn't quite your thing, use a long-lasting lip stain, but don't forget a shiny gloss to top it off.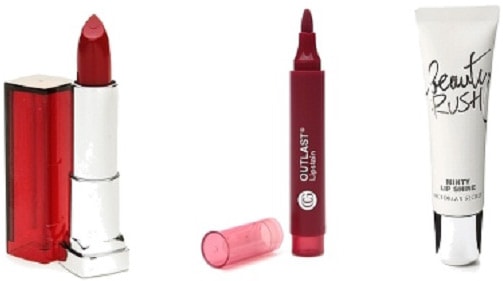 Product Info: 1. Maybelline ColorSensational Lipcolor, 2. CoverGirl Outlast Lip Stain, 3. Victoria's Secret Beauty Rush Minty Lip Shine
Your Thoughts?
Personally, I love all of these fall beauty trends, but I am dying to try out a statement red lip this weekend. Which fall beauty trend is your favorite? Have you already tried any of these out? And are there any essential fall beauty looks we missed? Leave a comment and let me know!