It's summertime, and I for one cannot wait to go on some trips this summer! Whether your're going camping or just taking a weekend getaway, packing the right beauty products is oh-so-important.
Of course, with limited luggage space, it's really important to invest in some travel-sized toiletries and beauty essentials. Additionally, federal regulations have become pretty strict as to what you can/cannot bring on airplanes, so if you are planning on packing your shampoo, hairspray, etc. into your carry on, travel size is a must. After doing some hunting, here are 3 really great travel kits!
1. Blow to Go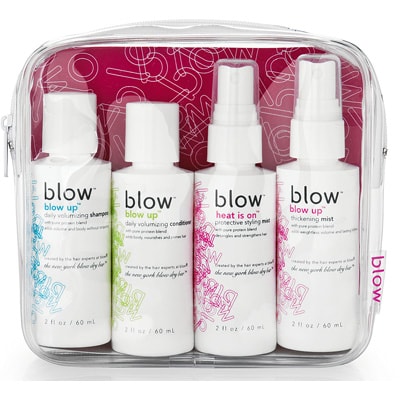 Blow To Go Kit – $28 at Urban Outfitters
Blow is a brand of haircare products designed by the award winning New York Blow Dry Bar. I found this kit through Urban Outfitters and am so glad I came across it! Not only are these products sulfate and paraben-free, they are also come in a super-chic carrying case! Additionally, Blow doesn't test on animals, a plus for you animal lovers!
This kit is also great because all of the items are 2 ounces. (The Transportation Security Administration won't allow anything over 3 oz. in a carry on.) The set includes everything you need for a fabulous hairstyle: Blow Up Daily Volumizing Shampoo and Conditioner, Blow The Heat Is On Protective Styling Mist and Blow Up Thickening Mist.
2. Flawless Face Kit by Laura Mercier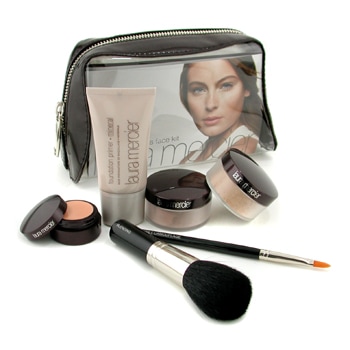 Flawless Face Kit by Laura Mercier – $65 at Sephora
This kit is great for touching up your makeup in between flights, and it's also perfect if you need to tuck away a little bit of makeup for a weekend getaway.
This kit, like the one above, comes with a very cute case and all of the products meet the TSA regulations. The kit includes: 1 oz Foundation Primer, 0.16 oz Mineral Powder SPF 15 in Real Sand or Natural Beige, 0.08 oz Secret Concealer #2, 0.13 oz Mineral Illuminating Powder in Starlight (Real Sand kit) or Candlelight (Natural Beige kit), aFull-sized Blending Brush, and a Full-sized Secret Camouflage Brush. In addition, the kit is worth $150, but is sold for around $65, making it a great value for the money!
3. Walk of Shame Kit by Too Faced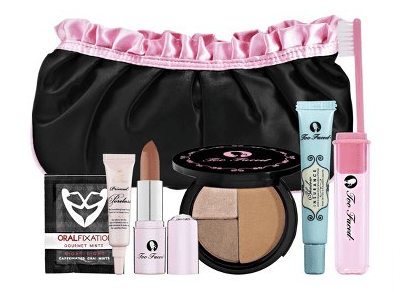 Walk of Shame Kit by Too Faced – $35 at Sephora
This kit is my favorite just because of the name – too funny! I really think that's so adorable. Aside from that, I'm a huge fan of Too Faced as a brand, and am so happy I found this great kit!
On Sephora's website, the description plays into the silliness of the kit's name:
"The Walk Of Shame set will get you out the door and walking home without the shame (hot shower and excuses not included)! This exclusive compact features products that correct and set your complexion, as well as two exclusive eyeshadows and the perfect bronzer to get you glowing at all hours."
Even after your travels are over, keep this one in your bag in case you find yourself in need of a touch-up the morning after. P.S. It even comes with mints and a toothbrush.
Bon Voyage!
What do you think about these travel kits? Do you use travel-sized beauty products? If so, what are your favorites? Let us know by leaving a comment!