This post may contain affiliate links, which means we may receive a commission if you purchase through our links. Please
read our full disclosure here
.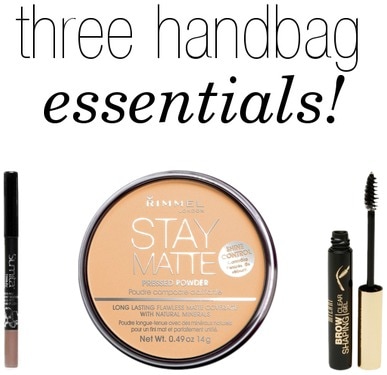 It's that time of year again. You know, the time when you need to get ready to pack up all of your things and move into your dorm, apartment, house, or wherever you're living on- or off-campus! On campus, I don't always carry a backpack (I normally reserve those for when I need to carry my laptop somewhere) and instead typically carry a huge purse.
My days are long – usually about 8-9 hours with breaks for food – so my makeup can get a little weird by the end of the day. In my bag, I keep a tiny makeup bag with just the essentials, and I use the three products below to touch-up my makeup during those long, grueling days on campus.
Read on to learn more about three must-have makeup products to keep in your handbag:
Sumita Beauty Champagne Eye Shadow Pencil

$18 at Glossybox.com
This eye pencil is everything. I received one in a monthly beauty subscription box a few months ago, and since then, I've been obsessed with it! Sumita Beauty was developed by an eyebrow-threading expert, so this brand knows how to contour and showcase your eyes perfectly.
This eyeshadow pencil is so smooth on the eyelid, and blends easily. The price is a little high, but I've been using this product almost every day for about four months and I've barely noticed any product loss.
The color is natural-looking, and perfect for when your makeup is looking a little blah in the middle of the day and needs something extra. It is a bit shimmery, but nothing crazy. This is the type of product you can easily throw in your handbag because it's small and won't spill out or break.
I often use this pencil to draw a line in the contour of my eye and blend. It gives my eyes something extra, and my makeup looks cleaned up and refreshed.
Rimmel Stay Matte Pressed Powder
$3.99 at Ulta
This is my go-to powder for touch-ups. You might be thinking: "Why is she putting more powder on her face? Won't it look cakey?" The answer? No!
This Rimmel pressed powder is very light, but absorbs oil instantly and somehow doesn't look cakey. It also lasts for quite a while after you've put it on, which makes a busy girl like me really happy! Also, it's only $4, so you really can't beat the price.
There are colored versions of the powder, but I use the transparent one so I don't add more color to my face. I do have the powder in the shade "Buff Beige," and use that when I do my makeup in the morning. However, the transparent version does the trick during the day.
Milani Brow Shaping Gel

$4.49 at Drugstore.com
Eyebrows are often overlooked when it comes everyday makeup, but I'm forever trying to keep mine perfect. This Milani brow gel is always in my purse: it's small, and the gel is not hard or sticky, but it will keep your brows looking fab all day long.
This product is great for everyday use. You can use it to touch up your eyebrows throughout the day and the gel won't cake onto your brows. Also, it's incredibly inexpensive, which makes it ideal for any girl on a budget.
Milani makes awesome brow products, so definitely check them out if you're looking for eyebrow pencils, brow wax, or anything else.
What do you think?
What are your go-to handbag essentials? Have you tried any of these products? Would you like to see more posts like this? Remember to tell us your thoughts by leaving a comment!