After last week's beauty quiz helped you find your beauty icon, you may have found that your beauty icon was the ingenious Lady Gaga. However, while we can all admire her courageous style, it may seem a little bit intimidating to imitate her makeup looks for say, an early morning calculus class.
Never fear – below, I've created a guide to rocking three of Gaga's most fabulous beauty looks for day or night, without looking crazy or costumey. Before you know it, everyone will be wanting your Bad Romance!
Look 1: Red Lipstick and Flowing Curls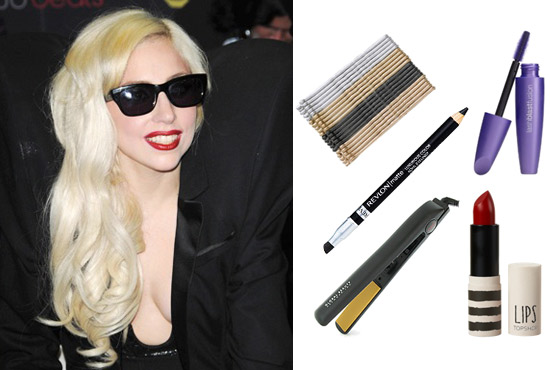 Photo Credit | Products: Bobby Pins, Eyeliner, Flat Iron, Lipstick, Mascara
Nothing says glamour like red lipstick and curls, and Lady Gaga is well aware of this fact! Here's a great way to get her classic glam look for yourself:
1. If you don't wear your sunglasses at night, use a simple black liner and one coat of mascara. You don't want to overpower your glorious smile!
2. Carefully apply a matte red lipstick by first applying it to the bow of your lips, then applying to the rest of your upper lip and then lastly your lower lip. Once this is done, blot with a tissue.
3.Use a flat iron to create large curls all over your head. Then, using hair-colored bobby pins, pin your hair to the side to make sure it only flows over one shoulder.
2. Nude Lipstick, Long Eyelashes, and a Bow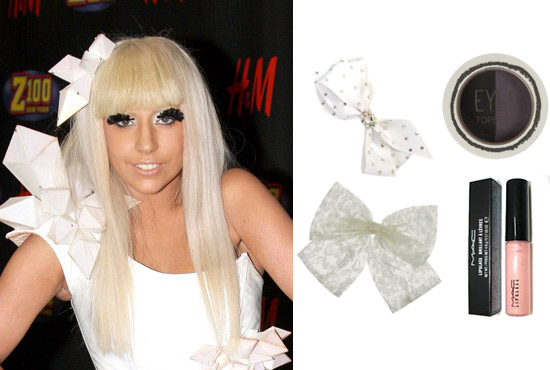 Photo Credit | Products: Polka Dot Bow, Lace Hair Bow, Lipglass in 'Underage', Eyeshadow Duo
1. Use a nude pink or flesh toned lip gloss to give yourself a flirtatious smile. MAC's lipglass in "Underage" (linked above) is a great pick for this look.
2. While Gaga's eyes may be a little bit over-the-top, you can create a more toned-down version by using a smokey gray eye shadow topped with 2 coats of mascara.
3. Finish the look with a fun bow hair accessory – above, I found two pretty ones that you can just clip in.
3. Pink Lipstick and Side Ponytail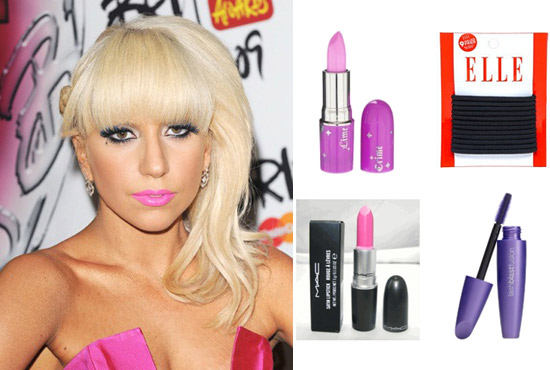 Photo Credit | Products: Top Lipstick, Bottom Lipstick, Mascara, Hair Elastics
1. Obviously, the most important part of this look is the punchy pink lipstick – above, I found two that are similar to Gaga's. Apply the lipstick in the same way as the way as you would apply the red lipstick from today's first look!
2. Keep your eye makeup neutral – a bright lip like this should be the focus of your beauty look! Just add a quick swipe or two of black mascara for polish.
3. To make this look slightly less extreme, make a side ponytail at the nape of the neck and secure it with an elastic.
Your thoughts?
Which of these looks would you try? Are you brave enough to try any of Gaga's lovely looks without altering them at all? Any products you recommend to get these looks? Leave a comment and let us know your thoughts!