I'm pretty boring with my makeup: I usually stick to neutral eyeshadow, minimal eyeliner, cream blush, and a MLBB lip product. Once in a while, I might spice it up with a bold red lip. I also tend to stick to the same tried-and-true beauty brands, like Stila, Laura Mercier, Etude House, and the usual drugstore suspects like Revlon, Maybelline, and Almay. As they say, if it ain't broke…
Over the last couple of months, possibly because my new school isn't within walking distance from…anything, I've been doing a lot of online browsing and trying out some new-to-me brands. I'm so glad I did, because I found some of my absolute favorite beauty products! Read on to see my new favorite beauty finds.
Clio: Gelpresso Waterproof Pencil Gel Liner
While I've heard a lot about Korean brand Clio and their famous Pen Liner in Kill Black, I'm pretty happy with my current fav liquid liner from Stila. What I really needed was a good pencil eyeliner.
I wear hard contacts, and the Laura Mercier Caviar Stick is the only eyeliner I'd ever tried that a) didn't deposit a film over my contacts and render me sightless and b) didn't smudge horribly and leave me with raccoon eyes. At $28 a pop, though, the Caviar Sticks are pretty pricey!
The Clio Gelpresso Waterproof Pencil Gel Liner has basically answered all of my eyeliner prayers. It's affordable (typically runs between $9-$14 on Amazon, depending on the color), it stays put all day long, it comes in a ton of fun colors, and most importantly, it doesn't make me blind! Plus, the fine point makes it easy to create precise lines. There are fine glitter particles, but it looks more like a shimmer once it's on. I love all three shades I've purchased.
No, these aren't all the same picture! Left is immediately after application. Middle picture: once the liner dried, I rubbed hard over the lines. Next I ran warm water over the liner for 20 seconds, then patted my hand dry with a tissue (right picture). As you can see, the liner barely budged, although a few of the glitter particles did shift. Despite its incredible lasting power, the eyeliner comes off easily with a cleansing oil.
VERB: Volume Spray and Dry Shampoo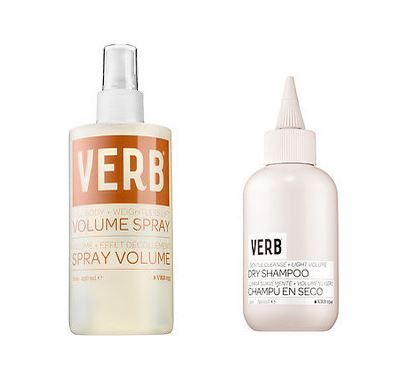 While browsing Sephora during a particularly boring lecture, I chanced upon VERB Hair Care. All of their products are 100% cruelty free and are priced at $14. I tried out the Volume Spray, Leave-In Mist, Dry Shampoo, and Salt Spray. The Leave-In Mist wasn't quite hydrating enough for my dry hair, and the Salt Spray didn't seem to do anything to promote beachy waves (although I guess it did work as a texturizer).
The Volume Spray and Dry Shampoo were winners, though! My hair is long and fine, so it's a constant battle to keep it from getting flat and greasy. I'm trying to break my lifelong habit of daily hair-washing, and VERB dry shampoo is helping: I can now go three days without shampooing! Unlike other dry shampoos I've tried, it doesn't make my hair feel coarse or gritty; if anything, it seems to make my hair feel softer. Even though my hair is dark, it doesn't leave white residue.
On the days I do wash my hair, I spritz the Volume Spray at my roots before air-drying or blow-drying. It works well to give my long hair more body. The spray, like all of the VERB products, has a light, fresh scent that's not cloying or overly chemical-y.
Butter London: LIPPY Moisture Matte Lipstick in "Old Blighty" and "Loved Up"
The matte lipstick trend is still going strong, and I couldn't help but jump on the bandwagon. Although I've tried matte lipsticks before, I was usually turned off by how they made my dry lips feel parched and mummified even when I'd exfoliated and moisturized beforehand (here's looking at you, MAC Russian Red!).
Enter Butter London, a brand that I recognized for its nail polish. I didn't even know they made lip products until I saw their Moisture Matte Lipsticks on sale for $17 each (normally $22) at Amazon's flash sale site, MyHabit. I decided to try out "Old Blighty," a brick-red hue perfect for fall, and "Loved Up," a fun berry color.
Not only do I love the colors, but I also love the way this lipstick keeps my lips hydrated! It has an ever-so-slightly gritty texture, presumably due to its "revolutionary gel-capsule technology", but I think that's a fair trade-off for the long staying power and moisture. Also, it's not 100% matte on first application, but if you blot it with a tissue, the slight shine goes away.
What did you think?
Would you try these products? Do you love experimenting with new brands or do you mostly stick to your old favorites? Let us know in the comments!